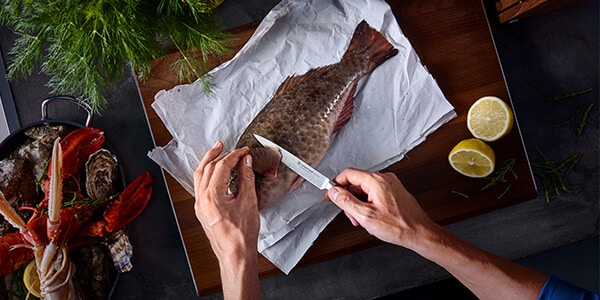 Since 1814
WÜSTHOF Solingen
, family-owned to this day, produce impressive knives of absolute perfection. The manufactory in which the WÜSTHOF Solingen kitchen knives of the highest quality are made every day has been well-known for 200 years
City of Blades
loyal and produces exclusively in Solingen. Even in the early days, the range of knives from WÜSTHOF included around 1,200 models such as
handmade
Pocket knives, paring knives, bread knives and butcher knives. In times of industrialization, the Dreizackwerk was opened, which is still the headquarters of WÜSTHOF Solingen today, and the design of the well-known
trident logo
, for which a patent was directly applied for. In addition to numerous milestones in history, one was the development of the
WÜSTHOF Classic series
, which became a worldwide success. The same uncompromising quality runs through the entire range of WÜSTHOF Solingen kitchen knives such as paring knives, chef's knives, carving knives, bread knives and boning knives. WÜSTHOF Messer Solingen will
Made in Germany
" and exported to 80 countries around the world, where they make the hearts of amateur cooks and professionals in upscale gastronomy beat faster. The unique production of the knives takes place in more than
40 work steps
. The traditional Solingen craftsmanship is supported with advanced manufacturing processes that make WÜSTHOF knives from Solingen even more exact, finer and more precise. In interaction with the
many years of experience
, the unbroken passion and the highest standards of quality, the result of the knives from WÜSTHOF Solingen is unsurpassed. For this reason, a selection of WÜSTHOF kitchen knives should not be missing in our online shop. We share the date with WÜSTHOF Solingen
Knife sales Rottner
the passion for high-quality knives and that already in the 4th generation. In our range we have some of the best knives from WÜSTHOF Solingen, which are based on
different kitchen chores
judge. Convince yourself of the variety of masterpieces from the premium manufacturer. With every WÜSTHOF knife, whether boning knife, chef's knife or bread knife, you can rely on
functionality
, precise and sharp blades, an aesthetically sophisticated design and a long service life.
perfection
, which you will experience – cut by cut. Once you have found a WÜSTHOF knife from Solingen, you can order your favorites conveniently and easily in our online shop. Take your time to look around and benefit from our
attractive price-performance ratio
.