Hunting pocket knives - the practical companions in the hunting ground
A hunter's equipment includes a functional and sharp hunting pocket knife. This makes the work in your own area much easier. They are practical companions for hunting or other outdoor activities in various designs. In our online shop you will find a special selection of high-quality hunting pocket knives from Solingen, which impress with the highest quality, functionality and flexibility. Discover classic hunting pocket knives with stag horn, modern folding knives made of micarta and sophisticated knives made of precious wood. A hunting pocket knife that is still manufactured using traditional craftsmanship in the Solingen manufactories gives you the great advantage that it is equipped with different blades and can be carried comfortably in your pocket.
You will find the right one for every task with us Knife from Solingen. Browse through our high-quality range at your leisure and discover the many variants that are perfect for butchering or skinning rabbits, wild boar or deer due to their high quality. A hunting pocket knife from Solingen is an excellent addition to your hunting knife with a fixed blade and is characterized by its easy handling.
Already in the 4th generation, we at Messervertrieb Rottner are the first choice when it comes to hunting knives and hunting pocket knives, which are still manufactured in the traditional way in Solingen. This guarantees you a long service life, reliable sharpness and practical use thanks to the knives' state-of-the-art locking technology. This is achieved primarily through the combination of well-established production methods with the latest technological processes. Take advantage of our many years of expertise and our experience as well as the best contacts to the most well-known knife manufacturers in Solingen. You can easily order all hunting pocket knives in our online shop.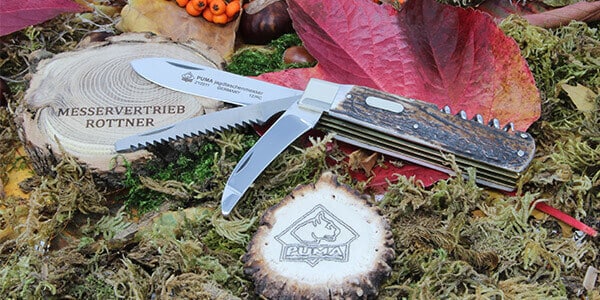 Find your best hunting pocket knife with us
The Solingen hunting pocket knives are available in different variants and shapes. Manufacturers such as PUMA, Hartkopf or Hubertus have a large number of knives with different blade shapes in their range, so that you can make your selection based on your requirements. Each individual knife is of high quality, has a stable and sharp blade and robust handles, which are ergonomically shaped depending on the model. As a result, the demanding hunting pocket knife lies optimally and securely in the hand.
What can you expect from our knives from Solingen?
With the 4-piece Puma hunting pocket knife from Solingen, you get a real all-rounder that features a blade made of 1.4110 stainless steel, a double-toothed saw, a breaking blade and a practical corkscrew. The hilt made of brass plates, nickel silver bolsters and a shell made of stag horn is not only powerful, but also looks good. Thanks to the proven spine lock, the blade is uncompromisingly secure after opening.
If you are looking for a powerful hunting pocket knife from Solingen, the OTTER model is your first choice. The unlocking of the blade is particularly noteworthy on this model, as the lever on the back of the handle is folded forward. This raises the spring, allowing the blade of the hunting pocket knife to fold in. This ensures safe handling. The traditional manufacturer opted for deer horn for the handle. This is how you get your very personal unique piece.
The 5-piece Hubertus folding knife is a functional and highly sought-after hunting pocket knife from Solingen, which features a blade made of high-performance stainless steel 1.4109. A double-toothed bone saw, a hunting blade, a practical duck hook and a corkscrew are also included. The selection of tools turns the hunting pocket knife with a classic handle into a real all-rounder.
An equally interesting variant of a hunting pocket knife from Solingen is the Hubertus switchblade knife. With this you even have the choice between different scales for the handle and the length and shape of the blade. You can easily adapt your hunting pocket knife to your preferences. The blade made of stainless steel 1.4034 shows its strengths in every situation, while the lever lock acts both as a safety device and as a trigger. Our experts will be happy to help you choose your personal knife.
In the online shop of Messervertrieb Rottner you will find the right knife for every need. The special advantages of these versions are the flexibility and handiness that you get with the foldable blade. This allows you to stow away every hunting pocket knife in a space-saving and blade-friendly manner, which is essential for hunting and outdoor trips.
Due to the innovative locks of the hunting pocket knife, handling safety when open is just as given as with a fixed knife. In addition, they are usually equipped with several blades or tools. There is no need to carry a large number of knives and you can rely on a multifunctional tool in every situation. A hunting pocket knife from Solingen has everything you need for a successful trip to the forest.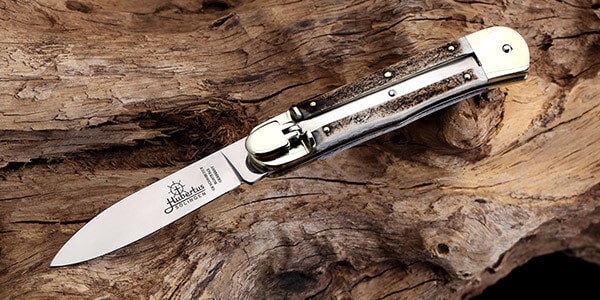 Hunting pocket knives from Solingen - perfectly equipped for every situation
The combination of a rustproof blade and a handle made of robust grip shells ensures that the hunting pocket knife has a particularly long service life. Due to the excellent workmanship, the knife blade stays sharp for a long time. Depending on your needs, you can also sharpen the blades yourself. If your hunting pocket knife has already lost a lot of sharpness, use our sharpening service for professional resharpening. For this we work together with a partner grinding shop from Solingen. After the careful process, you will receive your knife from Solingen again in a unique sharpness, with the best cutting strength and cutting properties.
So that you always have your hunting pocket knife to hand, we recommend a case made of hard-wearing saddle leather. This is available in different versions and allows you to attach the knife to your belt.
Order your hunting knife now from Messervertrieb Rottner
As a hunter, you need a loyal companion you can rely on. With a hunting pocket knife from Solingen you make the right choice. You can find the high-quality handcrafted knives directly in our online shop and you can order your favorites immediately. From an order value of 50 € we will ship your package within Germany free of charge with our reliable shipping partner DHL. Our fast delivery times are usually 2 and 4 working days. We also have different and secure payment methods ready for you.
Our promise: We give you a price guarantee. Discover the same hunting pocket knife or Hunting knife in another shop based in Germany including shipping costs at a lower price and provide us with proof, we will give you a price reduction of 3 % per knife.
Do you have any questions or would you like individual advice? Take now without obligation Contact up to us. We are happy to take the time to address your concerns.