Paring knives - indispensable kitchen helpers
Many types of fruit and vegetables have to be peeled thoroughly before they can be enjoyed. Of course, peeling can also be done with a classic kitchen knife. However, this is easier with a very special tool: the paring knife. Compared to conventional kitchen knives, these knives have relatively small and short blades, which makes it easier to peel potatoes and the like. In addition, less valuable pulp is lost with this type of knife.
The specialty of a paring knife
A paring knife with a straight blade can also be used to peel fruit and vegetables, but this often requires a special paring knife, also called a paring knife. These knives usually differ from the classic vegetable knives in that they have a curved blade. Due to the similarly short length and the special blade shape, a paring knife from Solingen can easily be attached to fruit and vegetables in order to remove the peel evenly. The curved edge also makes cutting out an apple shell easier.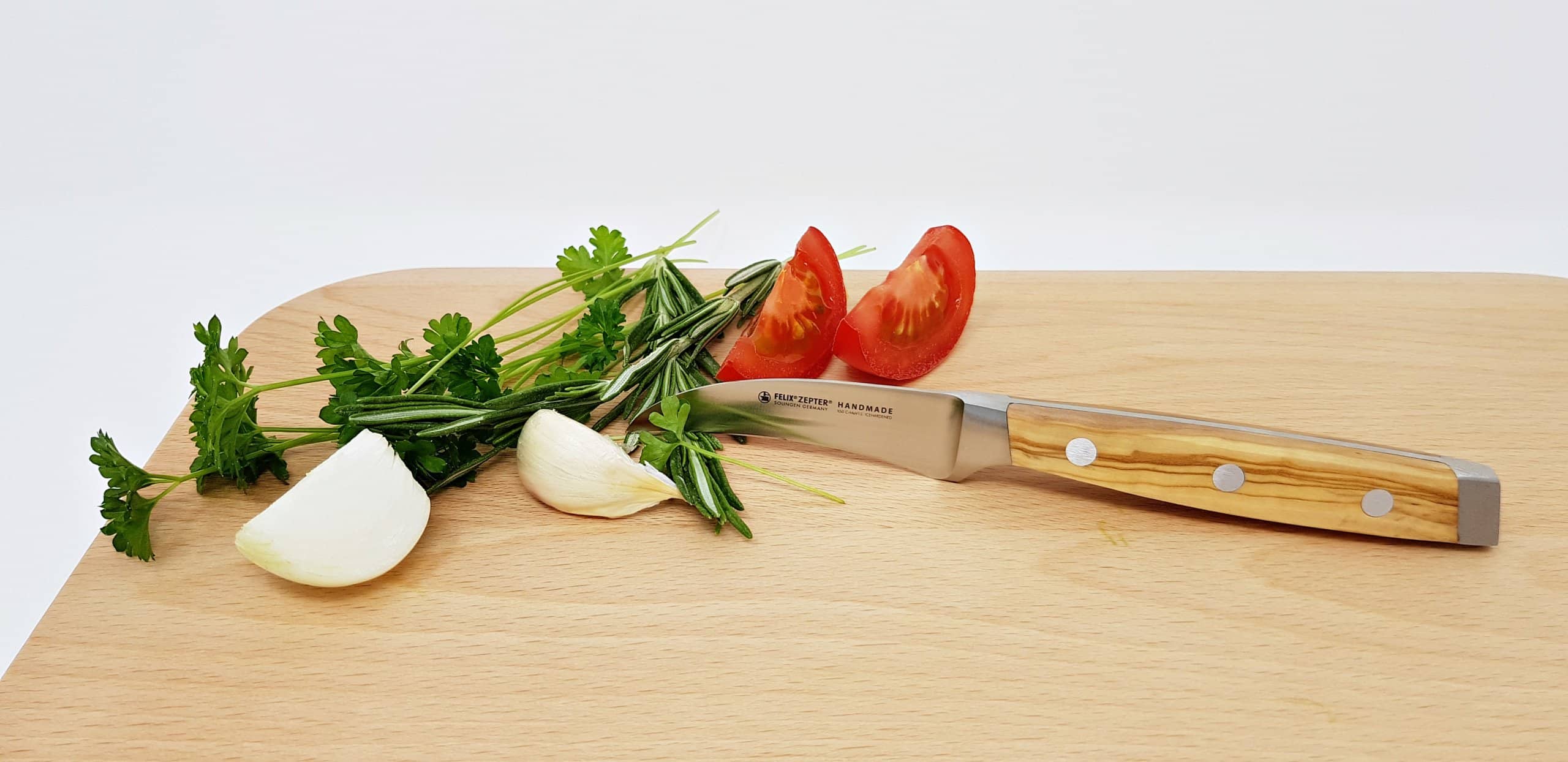 In the online shop of Messervertrieb Rottner you will therefore find knives that you can use for both cutting and peeling fruit and vegetables. The high-quality, rust-free steel is always connected to a qualitatively impeccable handle, which enables the knife to be guided without any problems.
Variants of paring knives
Knives for peeling work differ not only in their different handles, but above all in their different blades. A blade shape is e.g. B. the so-called center point, ie both sides of the blade are pointed. There are also knives for peeling with a straight underside. The so-called paring knife is, so to speak, the "Porsche" among paring knives. The blade of this knife is bent down like a beak and is somewhat reminiscent of a bird's beak. With a paring knife, fruit and vegetable pods can be separated from the pulp particularly quickly and cleanly. For this reason, this type of knife is often used not only in private households, but also in professional kitchens.
Buy high quality paring knives from Solingen
In the online shop of Messervertrieb Rottner you will find a careful selection of solidly manufactured paring knives, which are also called "Zöppken" in Solingen dialect. All of our original Zöppken from Solingen are extremely robust and are made of sharp and high-quality precision steel. You can choose between different materials for the handles. Whether made of easy-care plastic or a noble type of wood - all handles have one thing in common: They are ergonomically shaped, lie comfortably in the hand and allow accurate and comfortable work. Our paring knife recommendations: