Always a sharp cut - kitchen scissors from Solingen
In every kitchen, high-quality kitchen gadgets are required to be able to prepare dishes perfectly. Qualitative products make work in the household much easier and are therefore part of the basic inventory of a functional kitchen facility. Different kitchen gadgets are suitable depending on the task. For this reason, the online shop of Messervertrieb Rottner offers a variety
Kitchen scissors from Solingen
at. These excellent helpers are ideal for every household.
Precision scissors from the city of blades
Kitchen scissors from Solingen
are available from different manufacturers in numerous designs and models. Companies like Felix or
Kretzer scissors
are renowned producers and have a large number of kitchen scissors in various types in their range. All models are of high quality and made from special stainless steel. In order to be able to guarantee an excellent quality, many work steps of the scissors are still done by hand. The two manufacturers are known worldwide for their high quality products. Messervertrieb Rottner offers the right one for every household in its online shop
Scissors for kitchens
at. The particular advantage of these products is their long shelf life and first-class manufacturing. In addition, everyone can
Kitchen scissors from Solingen
be reground. For this reason, the products will last a lifetime with good care and correct handling. In addition to the typical kitchen scissors from Felix and
Kretzer scissors from Solingen
, we also offer special scissors. All
Scissors from Solingen
are rust-free and can be dismantled depending on the version. Levering out the two sides of the scissors has the advantage that the
Kitchen scissors
easier to clean.
Another loyal helper - the pendulum peeler
Another product that can be purchased from us is the classic pendulum peeler. This makes peeling apples and potatoes much easier. Solingen chopping knives are particularly popular in large kitchens. However, the product is also increasingly found in private households, as it is a practical kitchen aid for chopping up cooking ingredients.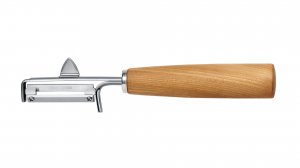 Perfectly equipped for every situation
As a professional or hobby cook, you need loyal helpers in the kitchen. With a
Kitchen scissors
from the Solingen knife manufacturers you have found the right choice for a reliable kitchen partner. You can find the high quality and lovingly handcrafted scissors in the online shop of Messervertrieb Rottner. Each helper is made of high-quality materials, such as the high-alloy X50 CrMoV15 chrome-molybdenum-vanadium blade steel or the VG10 Japanese shaped damask multilayer steel. The precise processing of the raw materials results in durable and high quality
Solingen scissors
. So that your helpers always stay sharp, it is important to properly care for them and to have them re-sharpened regularly by specialists. In this way you achieve a long service life for the products.
Longevity through care
So that you can get your
Kitchen scissors
from the knife manufacturers in Solingen always at hand, it is advisable to clean them carefully immediately after use. This also has the advantage that the blades stay sharp longer and the
Solingen kitchen scissors
are ready for use at any time.