Kretzer scissors
On a production area of over 2,600 square meters and with approx. 48 employees, KRETZER SCHEREN SOLINGEN sets the course for a weekly production of over 23,000 scissors. The average annual production of approx. 1.2 million pieces of scissors is achieved, and these are sold worldwide. State-of-the-art production systems and technologies are a prerequisite for achieving these enormous quantities with consistently high quality.
KRETZER SCHEREN SOLINGEN also combines these with decades of experience and masterful skill.
The result: guaranteed high quality products - piece by piece. With industrial, garden or hobby scissors through to special scissors and individual custom-made products, all areas of the market are completely covered. You are guaranteed to find the right scissors in our online shop.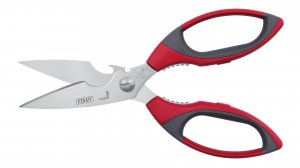 If you would like to learn more about one of the largest scissors manufacturers in the world, please contact us. We would be happy to give you more information about our Solingen partner!