Tweezers
Common products that are often used for personal hygiene include more than just nail scissors and other utensils. Tweezers should not be missing in any household. Anyone who has ever had a splinter in their finger knows how uncomfortable it can be if you can't get the foreign body out of the skin at all or only with difficulty. A pair of pointed tweezers can help remove the splinter without further injuring your finger. Tweezers from Niegeloh can be very helpful here. However, this utensil is also versatile in other areas.
Different shapes of tweezers
Tweezers are available in different designs. Everyone should have at least one form of it in order to be able to quickly remove splinters from the skin, at least in an emergency. The pointed tweezers are ideal for this. However, if you want to shape your eyebrows, for example, or remove annoying, protruding hairs from your face, you don't have to reach for the razor straight away. With a pair of tweezers, the problem can be tackled directly at the root. For example, straight tweezers with a flat end are ideal for plucking hair precisely. With an angled variant, hairs can be plucked as close to the skin as possible. The tweezers with a very fine tip grasp even the finest hairs.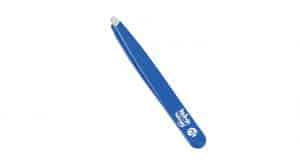 Why Niegeloh?
A pair of tweezers from Solingen is also characterized by the fact that it lies particularly well in the hand. The various models from Niegeloh, which you can purchase in the Messervertrieb Rottner online shop, are all made of high-quality materials and have been robustly processed. Both the Solingen knife manufacturer and we ourselves vouch for the quality of the tweezers. These are made of high quality stainless steel, which is also used for surgical tools. This means that the various tweezers are easy to clean, do not rust, can be sterilized and do not cause allergies. If you are not sure which type of tweezers you need, we at Messervertrieb Rottner will be happy to advise you personally. Just write us an email or give us a call. We will also be happy to advise you on questions about the care of the various knives, scissors and tweezers.