Fixed knives
For adventurers, campers and anglers is a
fixed knives
A must-have for the outdoor area and is part of the basic equipment, so to speak. The purpose of this knife is very versatile and due to its nature an ideal companion. Whether collecting mushrooms with the family, carving around the campfire or gutting the fish you have caught yourself - that
Outdoor knife
is the right tool for this. The online shop of Messervertrieb Rottner carries a very large selection of knives, including the leisure and outdoor all-rounder: the
Outdoor knife
from Solingen. Since these knives are often used for leisure activities, they are also known as leisure knives.
Outdoor knife from Solingen
Solingen is not just a city in Germany, but a registered trademark for quality knives and quality scissors in the household and leisure sector. The knives and scissors from Solingen are indicative of excellent workmanship and very good quality. Solinger is made by hand
Outdoor knife
as well as hunting, kitchen or special knives that meet the highest demands of the various users. Different blade shapes and lengths as well as ergonomically shaped handles stand for the high quality standard of the knife manufacturers Solingen. For many decades, companies such as Puma, Hubertus or Hartkopf have been producing various types of knives that are perfect companions for leisure, camping and hunting.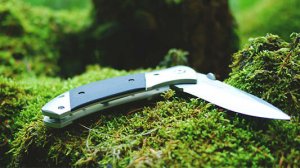 Well equipped in the outdoor area
The perfect companions for a camping adventure are the high-quality fixed ones
Outdoor knife
from Solingen. In general, you should be able to rely on your knife as a work tool at all times. For this reason, for example, the leisure knives were specially designed for activities in the wild. Whether used as a lever tool, chef's knife or as a splitting tool - these knives offer you a wide range of uses. In addition, the leisure knives from the knife manufacturers Solingen are very reliable and withstand changing conditions such as heat, cold or heavy use.
Outdoor knife
you get as
fixed
Knife and as a folding knife. The knives are particularly hard-wearing and robust. In addition, the blades are with the
fixed
Knives usually last longer, which makes the possible uses more diverse. The
Outdoor knife
, which you can get in the online shop of Messervertrieb Rottner, are supplied with a matching knife sheath that offers the appropriate protection.
Our recommendations for you:
Outdoor knife
from the excellent range. Every knife from the knife manufacture Solingen stands for a product that is handcrafted and made with the highest precision. As a result, the knives from Messervertrieb Rottner give you a long service life. The blades of the knives are sharp for a long time due to their excellent workmanship, but can easily be re-sharpened if necessary.