Order kitchen gadgets and spatulas from Messervertrieb-Rottner.de
The best way to cook, bake and fry the daily preparation of food is with the right kitchen utensils. With the right kitchen gadgets you save time and effort every day and everything will turn out much better. Order your practical kitchen helpers conveniently online.
Advantages of spatulas
Who does not know this, with a normal spoon it is not that easy to turn fried food in the pan correctly and thus avoid the food burning.
With the various spatulas from the Rottner range, however, everything is much easier and you will enjoy cooking and frying in the kitchen again. With our spatulas, a useful kitchen utensil comes to your home. Use our spatula to prepare fried potatoes, fried eggs and omelettes, use them to turn meat in the pan or make it easier for yourself to bake delicious pancakes or potato pancakes.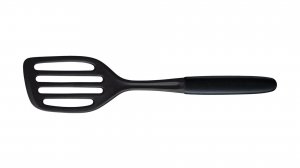 Highest quality and best performance
With our spatulas, many demands on quality and price-performance ratio are met. The practical kitchen helpers are not only made for private use, but can also be used perfectly by professional chefs in the catering industry. They are made of sturdy materials such as stainless steel, are dishwasher-safe and extremely heat-resistant. Another quality feature is the use of sustainable raw materials in production. Order turner in different versions and designs. These are available in a triangle design, as well as with and without grooves that allow excess fat to drip off. The fish pallets are also very useful as they allow you to easily turn larger pieces of fish in the pan. Convince yourself of our attractive range!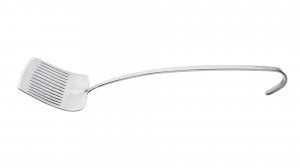 Order kitchen gadgets and spatulas
We have a large number of useful kitchen utensils for you that can make your kitchen work and daily cooking easier. With a click on the desired category, you get to the respective product. Order, among other things, practical spatulas and ladles for everyday use.