Carving cutlery
Slicing and dividing a roast at the table for a festive occasion is a special, almost ceremonial moment. In earlier times this art was practiced by master carvers - with the right one
Carving cutlery
and with a little practice you will also be able to turn the festive meal into something very special. Whether Christmas goose, fish or a juicy roast, with one
Carving cutlery
from Solingen you succeed in this art yourself.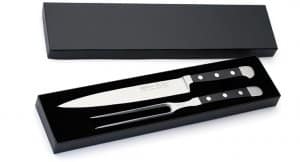 The classic one
Carving cutlery
consists of the carving fork with two long prongs and the sharp carving knife. Here we offer you in the online shop of
Knife sales Rottner
a selection of products from well-known manufacturers from Solingen, such as Felix, Burgvogel or Güde.
What to look out for
Material and workmanship are also with one
Carving cutlery
the be-all and end-all. Above all, the carving knife should be sharp and easy to sharpen, because the sharpness ensures that the meat slices are cut off smoothly without the meat fraying. With our quality brands you will not be disappointed in this regard, we guarantee the highest quality from Solingen manufactories. We will be happy to advise you on the right carving set. Whether knives with a shorter or longer blade, other accessories such as poultry shears or if you have any questions about the proper care of yours
Carving cutlery
, we are happy to help you with our many years of experience. Do not hesitate to contact our support.