Carving set Solingen – the elegant art of carving
Carving cutlery from Solingen is your perfect companion when it comes to cutting and dividing a roast at the table on a festive occasion. To this day, carving with a carving set is an extremely ceremonial moment. The tradition goes back several centuries and was then practiced as a high art by carving masters.
Professional carving requires a little more skill. After all, it is about making the cuts as precisely as possible with a high-quality carving set such as from Solingen, so that the meat does not fray, at the same time detaching as much of the bone as possible without damaging it and ultimately the tranches (slices) to an optimal size bring to. But don't worry, with the right carving set that you buy from us and with a little practice, you too will be able to turn the joint festive meal, from Christmas goose to fish to juicy roasts, into something very special with carving sets from Solingen.
We at Messervertrieb Rottner, now in the 4th generation, are also committed to tradition and carry high-quality carving cutlery from Solingen, which convinces with quality, impressive workmanship and easy handling. Even beginners who are practicing carving for the first time will find it much easier with such a high-quality carving set from Solingen. The production of the extraordinary cutting tools combines the high craftsmanship of forging, traditional manufacturing techniques and the latest technological possibilities. A carving set from Solingen stands for impressive quality work like no other product. Convince yourself. In our online shop you will find a fine selection of carving cutlery, which you can buy directly from us. We invite you to browse through our Knife from Solingen a.
The advantages of carving cutlery
The classic carving set consists of a carving fork with two long tines and a sharp carving knife. The multi-piece carving set is also mostly used in combination with a carving board. A carving set from Solingen is the first choice, especially when cutting into a roast. With the kitchen helper designed for this purpose, you avoid tearing the meat or the crispy casing and showing unsightly cut surfaces.
In the high art of carving, not only practice and the correct handling of the carving set, but also knowledge of the anatomy of the animal to be carved are important. This makes it possible to make exact cuts in the right place and to cut up the carving with precision. Proper handling of the carving set used to be part of a knight's training. Over the years, the festive act was reserved exclusively for the hosts.
A carving knife from Solingen shows its qualities above all through its immense sharpness and a hard but very narrow blade that is approx. 20 cm long. Although the comparison to a Chef's knife is close, the difference is clearly evident in use. With a carving set from Solingen you can effortlessly cut meat, serve it in style and give the feast a particularly elegant touch. If you are preparing fish instead of a roast, it can also be cut up at the table with a carving set. The fork with four tines is a little flatter and the curved knife comes without a cutting edge.
What is important when it comes to carving cutlery in Solingen?
Material and processing are also of great importance for a carving set. As already mentioned, the carving knife in particular must be extremely sharp. So make sure to sharpen it regularly. This is the only way to ensure that the meat slices can be cut smoothly with the carving set from Solingen without the meat fraying. Carving tools should also be particularly comfortable to hold and ensure precise guidance. Ultimately, the decision for a high-quality carving set depends on your personal requirements.
You will not be disappointed with our models from well-known premium manufacturers from Solingen. We guarantee the highest quality from the best Solingen manufactories for every carving set. We would be happy to advise you on the selection of the right carving set, which you can buy in our online shop.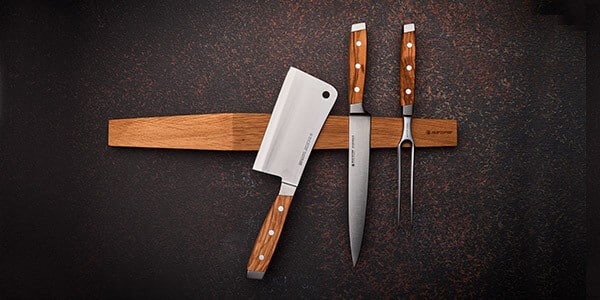 Our selection of carving cutlery Solingen
We carry an exquisite range of carving cutlery from Solingen. The Wüsthof Classic carving set comes with a ham knife that is 20 cm long and a meat fork that is 16 cm long. With this you keep everything perfectly in position when cutting roasts, meat and even fruits and vegetables.
Another excellent carving set from Solingen is the Güde Alpha ham knife and the Güde Alpha meat fork. The combination ensures that in just a few cuts you can cut up every wonderfully fragrant and crispy roast in no time at all. The knife handle of this carving set is made of the special plastic Hostaform, which makes it permanently wear-resistant, robust and tough. Thanks to a finely polished shaft, the carving knife is easy to care for.
The Felix First Class carving set is just as convincing. The blade is 23 cm long, which means that even wafer-thin slices can be loosened and cut almost effortlessly. In addition, you can use the carving set from Solingen to determine the optimum doneness.
You can buy your carving set from Solingen at Messervertrieb Rottner
Discover now the perfect carving set from Solingen, which will meet all your high expectations. From a goods value of 50 € we will ship your order free of charge within Germany with our reliable shipping partner DHL. Your carving set will be with you within two to four working days. We also provide you with a large selection of different and certified payment methods.
For us, quality is a matter of course for all carving sets from Solingen. We give you our price guarantee. If you discover the same carving set in another shop based in Germany including shipping costs and can prove this to us, you will receive a discount of 3 % from us.
Be it a carving knife with a shorter or longer blade, other accessories such as a poultry shears or if you have any questions about the correct care of your carving set from Solingen - we will be happy to help you with our many years of experience. Don't hesitate and take it Contact join our service experts. We take care of your concerns competently.