Tomato knife Solingen - high quality elegance
The reliable cutting of vegetables such as tomatoes or peppers often poses a challenge for many knives. This is due in particular to the very robust and firm skin of vegetables or fruits. This is often accompanied by increased pressure when cutting, which means that vegetables and fruit are unattractively crushed. The solution to this is as simple as it is ingenious: A tomato knife from Solingen gives your preparation the necessary sharpness. The secret of the tomato knife lies in its serrated edge, which Franz Güde once perfected in Solingen. You always buy a tomato knife with this refined type of blade, which makes cutting tomatoes and the like much easier. Another advantage that we don't want to hide at this point is that this cut of a tomato knife from Solingen wears out only to a small extent, which guarantees a consistently high cutting edge over a long period of time.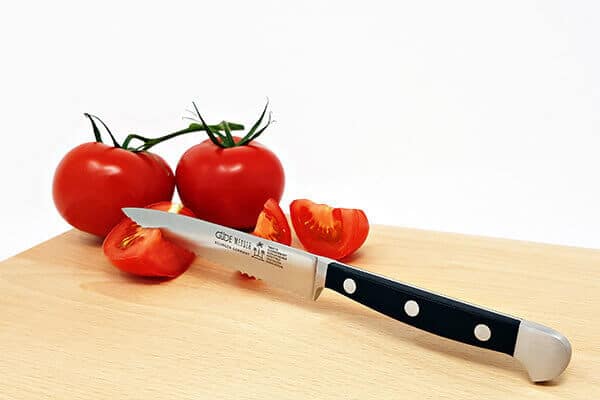 Buy a tomato knife from the experts
We from Knife sales Rottner Already in the fourth generation, we convince our numerous satisfied customers with a selected range of high-quality knives in impressive quality from the best manufacturers in Solingen. Of course, our tomato knives also come from the traditional production of those Solingen master blacksmiths who know how to combine old craftsmanship with the latest technologies to create precise results for today's demands. If you are looking for a tomato knife that presents itself in an impressive quality, remarkable functionality and an elegant design, you are guaranteed to find your personal favorite in our range.
Browse through our selection of tomato knives from Solingen and order the products you want directly from our online shop.
What exactly is a tomato knife?
A tomato knife is a handy special knife that perfectly complements your basic set of knives if you are already preparing many ingredients such as tomatoes or peppers. Thanks to its special serrated edge, the tomato knife glides through tough skin like butter. For example, tomatoes can be cut into very fine slices. The tomato knife also shows its sophisticated properties when cutting peppers or aubergines, cuts through fruits such as plums, peaches or nectarines cleanly and effortlessly and even cuts a fine figure when cutting sausage or cheese. The tomato knives in our online shop are true all-rounders and therefore of high quality Professional kitchen knife from Solingen.
Use a tomato knife from Solingen for versatile use in preparation and ensure sophisticated serving with the possibly integrated fork pick.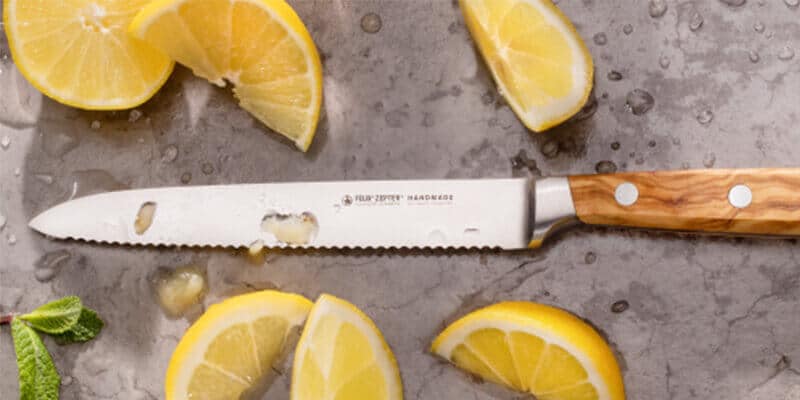 Why choose a tomato knife from Solingen?
When cutting tomatoes, especially into thin, smooth slices, you often reach your limits when using a normal kitchen knife. The smoothly ground blade is all too happy to slide on the smooth surface of the tomato. Or the tomato is crushed by the pressure when cutting it. The tomato knife from Solingen prevents these problems due to its specially designed design. In contrast to conventional knives, the cutting edge of a tomato knife from Solingen has a fine serration that immediately gets a foothold in the tomato skin and cuts through it without great pressure and thus without bruising the tomato. Of course, a tomato knife from Solingen is also suitable for cutting other vegetables and fruit. A tomato knife is particularly useful where there is a risk of bruising when using a conventional knife.
The serrated edge known today as the serrated edge was first patented by William Grant in 1930 and later developed into the so-called serrated edge by the knife manufacturer Franz Güde from Solingen. Apart from the tomato knife from Solingen, it can also be found on other knives, such as the bread knife. The special cut ensures that the blade is rarely resharpened. However, if the tomato knife from Solingen does need to be resharpened after long and frequent use, this requires something more than the simple use of a sharpening stone or sharpening rod. Since we work closely with knife manufacturers in Solingen, we will be happy to get in touch with you and ensure that your tomato knife from Solingen gets the right sharpness again with a professional sharpener.
This is what you can expect from tomato knives from Solingen
Our online shop offers you an extensive range of high-quality kitchen knives, which of course also includes tomato knives from Solingen. Convince yourself now of our range of tomato knives from quality manufacturers from Solingen such as Güde, Felix and Carl Mertens.
Here you will find a selection of tomato knives with different blade lengths from 9 cm to around 15 cm and different blade shapes - rounded, tapered or with a forked tip (cheese pick). The blades of the tomato knife from Solingen are fitted with a handle made of either wood or high-quality plastic and are easy to hold. As with all our knives, we also work closely with experienced knife manufacturers from Solingen. We therefore guarantee you the consistently high quality of material and workmanship.
How about, for example, the handy Güde tomato knife from the Alpha series, which has a 13 cm long blade and, in addition to tomatoes, can also handle cheese or fruits with a lot of pulp? This tomato knife from Solingen uses high-quality chrome-vanadium-molybdenum knife steel, with which the blade is made from one piece and has a blade hardness of 56 HRC.
Our personal tip: A very unusual tomato knife from Solingen by Güde is the Güde Alpha barrel oak tomato knife, whose handle is made from oak wine barrels that are over 80 years old. This unique model was created in cooperation with star chef Harald Rüssel. A real enrichment for your kitchen and at least as good kitchen gift.
Say goodbye to crushed tomatoes and fruit with the tomato knife from Solingen by Felix from the FIRST CLASS collection. Instead, you can use this tomato knife to cut wafer-thin slices or the finest cubes to perfection. The blade is made of X50 CrMoV15 blade steel and impresses with a particularly high and long-lasting edge retention and corrosion resistance.
With the highest quality, traditional manufacturer Carl Mertens is also launching a tomato knife from Solingen that not only cuts tomatoes, hard skins and crusts with its corrugated shape, but also proves its functionality with hard sausages such as salami. The tomato knife from Solingen is made by hand in around 40 work steps - just as all traditional manufacturers in Solingen have done.
The quality knives from Solingen have always been very popular around the world and enrich numerous households with their skills and their appearance. A tomato knife from Solingen is therefore particularly good in your selection.
Buy high-quality tomato knives from Messervertrieb Rottner
Order one of the tomato knives from Solingen now and take advantage of our service benefits. From an order value of 50 €, your delivery will be sent to you free of charge within Germany. We organize shipping with our reliable logistics partner DHL in 2 to 4 working days. There are also different payment methods available for you, such as convenient purchase on account.
Do you still have a question about tomato knives from Solingen or would you like some non-binding advice? Just take Contact to us. We are happy to take the time to personally address your concerns.