Cuticle and nail scissors
For a well-groomed appearance, clean and well-groomed fingernails are an important criterion. For this reason, the cutting of the nails or the manicure should be included in regular body care. Nail care is also important for babies and children, sometimes to avoid injuries. The online shop of Messervertrieb Rottner offers you a wide range of nail scissors and cuticle scissors, based on the long tradition of Solingen knife and scissors manufacturers.
From baby scissors to cuticle scissors from Solingen
Nail scissors and cuticle scissors are the perfect craft tools for regular manicures and pedicures. The nail scissors are available in different sizes and shapes in order to meet the individual needs of the user. The curved shape and the sharp edge are typical of the nail scissors. Due to these properties, fingernails and toenails can be easily and carefully cut and maintained with nail scissors from Solingen. The Solingen scissors stand for high quality, precise workmanship and high-quality materials. In general, stainless steel is used for the production of nail scissors and cuticle scissors from Solingen to give them years of durability. Compared to conventional household scissors, nail scissors are much smaller and shorter and have cutting blades that are slightly curved. This will automatically round the nails as they cut. Another characteristic of the high quality of the cuticle and nail scissors from Solingen is the long-lasting sharpness of the cutting blades. If necessary, these can easily be re-sharpened.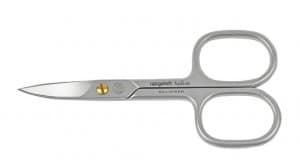 Nail and cuticle scissors for manicures and pedicures
Nail scissors are used to cut fingernails and toenails, cuticle scissors are used specifically to remove cuticles. As a manufacturer of scissors, Niegeloh is also known beyond the city limits of Solingen. Niegeloh baby scissors or Niegeloh nail scissors - the name stands for quality, excellent workmanship and a long service life. The shape and length of the baby scissors from Niegeloh are adapted to the small children's nails, the tips are rounded to prevent injuries. In the online shop of Messervertrieb Rottner you can also get combination scissors that combine the excellent properties of nail and cuticle scissors. You, too, can contribute to the long service life of the scissors by giving them a little care: You can clean the scissors easily and easily with a soft, damp cloth. If you have any questions about the nail scissors from Solingen or the entire range, please feel free to contact our support.