Steak knife
If you like to prepare a steak at home, you also need the right tools. If a steak is cooked to perfection, you need a very sharp but handy knife that allows the meat to be cut up smoothly without crushing the fibers or having to use great force. A normal table knife is usually not sufficient for this. Using a sharp chef's knife as cutlery at the table is usually problematic and unwieldy. A special one
Steak knife
from Solingen therefore combines the properties of an ordinary chef's knife with a table knife so that a steak can be cut perfectly into bite-sized pieces.
The advantages of a steak knife
It's similar in shape and workmanship
Steak knife
a kitchen knife, because it is made of the same robust materials and is characterized by its ideal cut resistance and sharpness. The knives from a Solingen knife manufacturer can be easily re-sharpened and thus retain their excellent functionality for a particularly long time.
Steak knife
are available with both a smooth blade and a saw blade. The saw cut ensures that the meat is sawn instead of cut. So you have to use even less force than with a sharp one
Steak knife
with a smooth blade. However, this has the advantage that it can be easily re-sharpened even by laypeople. With a serrated edge, the help of a specialist is more in demand.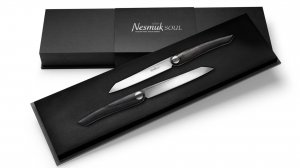 Which steak knife to choose
A few examples from us for different steak knives:
What a variation of one
Steak knife
You choose is up to your personal preference. The handles of the Solingen
Steak knife
, which you can find in the online shop of Messervertrieb Rottner, are all robust and easy to hold, regardless of whether you choose a knife with a wooden handle or another material. When choosing the right knife, we will be happy to advise you and explain the different knife shapes and how they work by phone or email.