Cleaver - the heavyweight among knives
The
Cleaver
is the heavyweight among kitchen knives and is also used professionally in the meat processing industry. Other names like
Kitchen hatchet
,
Meat cleaver
or Spalter already point out that it is handled more like an ax than a typical knife. It is particularly suitable for cutting larger pieces of meat and smaller animals such as rabbits, veal or lamb. The cutting of bones poses no problems for this tool either
Cleaver
excellent for portioning chops or ribs. You can also cut poultry
Cleaver from Solingen
simply by hand, thighs and wings can be separated from the rest of the meat without destroying too many meat fibers. The heavy, wide blade glides effortlessly through cartilage and solid tissue.
Variations
The
Cleaver
is available in different versions. These are characterized both by the various dimensions of the mostly rectangular blade and by the weight. Which type is best for you, you decide afterwards whether you want to use it for cutting larger pieces of meat or whole animals including robust bones or for smaller portions. The online shop of Messervertrieb Rottner offers you an extensive range from experienced knife manufacturers from Solingen such as Güde, Felix or Carl Mertens. The chopping knives are usually comparatively heavy in order to simplify the precise chopping of meat and bones. Despite its weight, a Felix First Class Hacker with a blade length of 16 cm lies comfortably in the hand and can be guided in a targeted manner. Anyone who likes to use an Asian knife variant can do a
Güde Chai Dao
choose, which is also 16 cm long. This
chinese cleaver
is a little more filigree and therefore looks more elegant with the same efficiency. Other knife shapes of the chopping knife like that
japanese cleaver
can be found in the online shop. For questions, please contact us.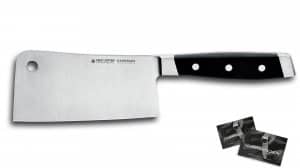 What to look out for when purchasing
In addition to the high quality of the material and workmanship, which guarantee a long service life for your work device, a good
Solingen cleaver
an optimal balance between blade and handle is crucial. For an effective work technique, an exact balance is the basic requirement. Especially when working with a heavy and sharp blade, easy tool handling is also a guarantee of safety. Let us advise you on your purchase. We at Messervertrieb Rottner have many years of experience in cooperation with well-known manufacturers and will find the optimal product for your requirements. If you would like tips on how to properly care for your knife, we will of course be happy to provide you with them. Take a look at ours for this
Care instructions
to find out in advance.