Cutting boards Solingen - shapely and noble
Professional and amateur cooks are increasingly reaching for the tried and tested, traditional wooden cutting board in the kitchen. Wooden chopping boards have been popular for a long time and their excellent properties make them versatile. And the wooden cutting boards also have a lot to offer in terms of appearance: the range extends from the classic variant to modern boards in unusual shapes and designs. You can find cutting boards with practical hanging loops or minimalist wooden cutting boards in the Messervertrieb Rottner online shop. Regardless of which model you choose, the materials are of very high quality and noble.
Wooden chopping boards and their positive properties
A high-quality wooden cutting board protects the blade when cutting, while cutting pads made of glass or plastic make the kitchen knives blunt. In addition, a wooden cutting board is more hygienic than the plastic versions. Only high-quality, antibacterial and tannic acid-containing woods are used for the cutting boards from Messervertrieb Rottner. In addition to the effect of a unique grain, the products impress with their easy cleaning and long service life.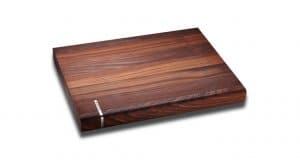 Only high quality materials are used to make Solingen cutting boards
The cutting boards from the online shop of Messervertrieb Rottner are made from:
Oak wood or
Walnut wood
manufactured. Thanks to the extraordinary design and the noble look, wooden cutting boards are not only ideal as cutting boards but also as serving boards.
The oak cutting boards are characterized by their strength and are considered to be particularly robust cutting mats that also impress with their durability. Chopping boards made of walnut wood score with their very good cutting properties and their antibacterial properties. The walnut cutting boards are suitable for high-quality and expensive knives, which these wooden boards are considered to be particularly knife-friendly, which means that the knife blade does not dull so quickly.
Solingen cutting boards - whether made of oak or walnut, they are the elegant and elegant cutting boards for your kitchen.