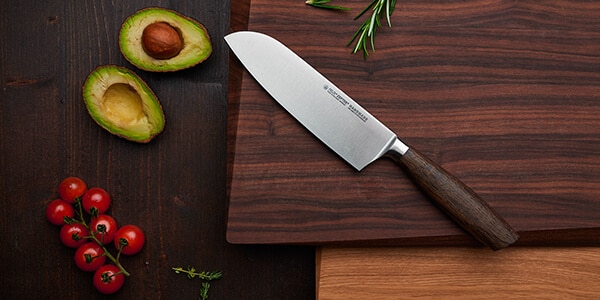 When choosing the perfect professional kitchen knife Solingen, everyone has
other claims
. The equipment is at least as individual as the culinary delights that you conjure up in your kitchen. Still, there are some knives that are noisy
Experts |
should not be missing in any kitchen. Next to a big one
Chef's knife
, which is particularly suitable for universal use, makes a
Bread knife
good services. Not only does this allow you to reliably cut fresh bread, you can also effortlessly chop up large types of fruit and vegetables. A
Paring knife
proves its worth, however, for small cutting jobs. With these three professional kitchen knives Solingen you are already well equipped for many kitchen jobs. We recommend you when it comes to a rounded
Basic equipment
goes, straight on
knife set
to fall back. This brings a clever compilation of professional kitchen knives Solingen that you need for most work in the kitchen. Here, too, our selection is aimed at
individual needs
. The kitchen knife sets from Solingen consist of a different number of professional kitchen knives from Solingen. Decide on one
big set
, you will receive, among other things, a chef's knife, a santoku knife, a bread knife, a slicing knife, a ham knife, a paring knife, a paring knife as well as a meat fork, scissors and a sharpening steel for re-sharpening.
Minor variants
include chef's knives, bread knives, paring knives and ham knives. Of course, you can add other professional kitchen knives Solingen to the kitchen knife sets according to your needs. For all projects in the kitchen there is the right professional kitchen knife Solingen. If you like to enjoy the finest cheeses, you should have a
Cheese knife
with which the high-quality specialties can be cut easily and precisely. On the other hand, anyone who fillets meat and fish frequently will use one
Filleting knife
cut into remarkably wafer-thin slices. Undoubtedly, lovers of fine steaks should try one
Steak knife
can call their own as quality kitchen knives. Because it is not only the right time when roasting or grilling that is crucial for enjoyment, you also lay the foundation for it with the perfect preparation of the meat dishes. We would also be happy to advise you on your selection of professional kitchen knives from Solingen
personally
.