Paring knife Solingen: perfect for fruit and vegetables
A vegetable knife from Solingen is a real all-rounder in the kitchen when it comes to preparing vegetables and fruit. Above all, the versatility of a Solingen paring knife made from real, traditional craftsmanship is convincing. The special thing about a paring knife is the back of the blade, which is usually curved, while the blade is ground straight. Peeling or cutting becomes child's play. At the same time, it is ensured that you can ideally use all the material to be cut.
Our passion is still the craftsmanship of genuine Solingen premium manufacturers. We carry a well-assorted range of high-quality knives from the world-renowned and valued city of knives. Of course, paring knives from Solingen should not be missing from our selection. The masterly craftsmanship and the unique quality of the materials make each knife a work of art that is second to none and inspires everyone from amateur cooks to professionals. You buy a paring knife from us with the highest demands in terms of quality, sharpness, handling and service life.
Already in the 4th generation we offer Knife sales Rottner We offer our customers extraordinary knives "Made in Germany", which you can easily order in our online shop. Let yourself be inspired by paring knives from Solingen by Güde, WÜSTHOF or Felix. The practical and handy design ensures that you can process vegetables and co. elegantly and in no time at all into delicious salads, raw platters and fine fruit desserts.
Discover our Solingen vegetable knives for yourself and find your personal favourite. Look forward to exquisite workmanship and robust properties that make the difference. We would also be happy to advise you personally on your paring knife from Solingen.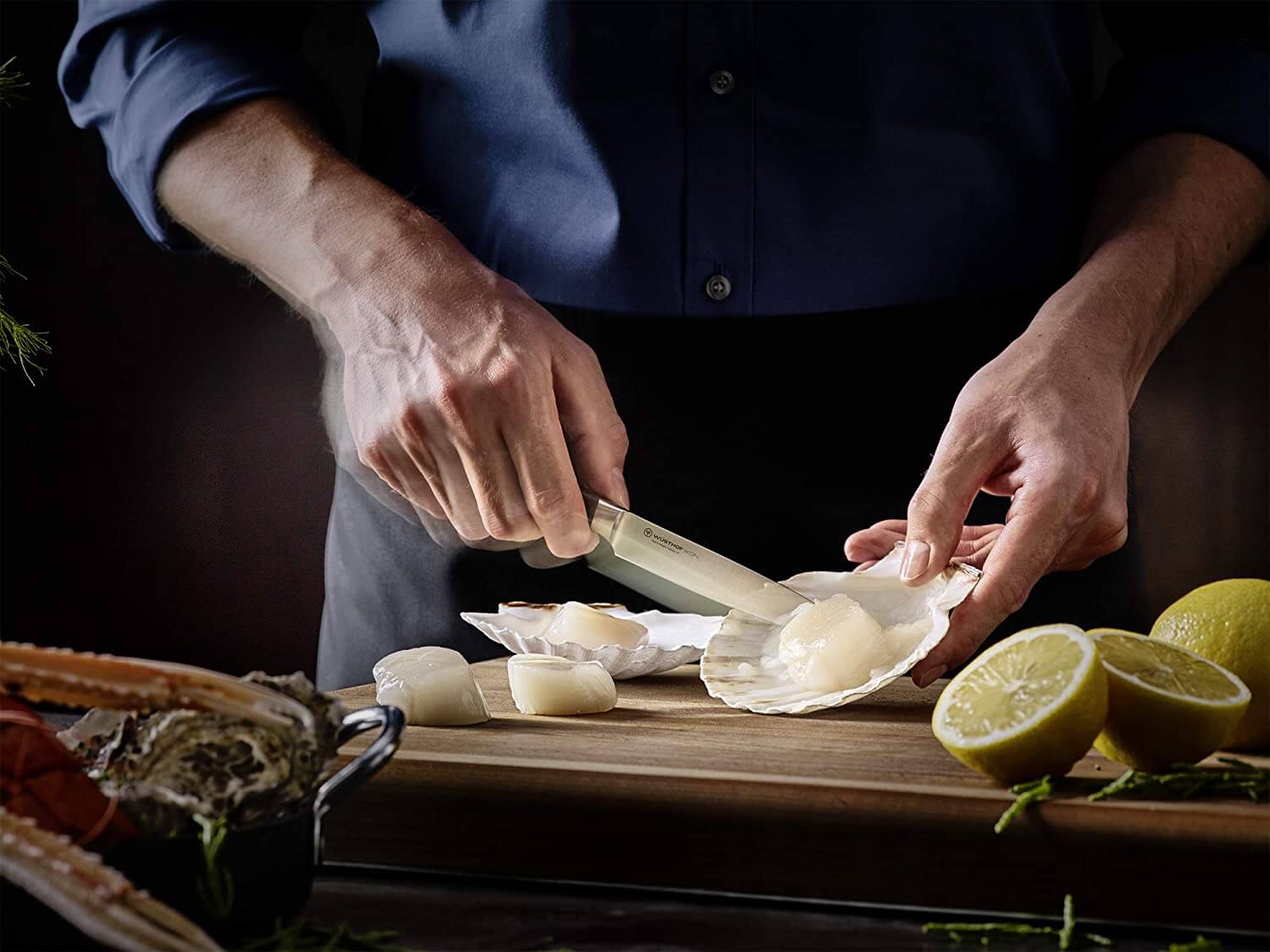 Why should you buy a paring knife?
A paring knife should rightly have a place in your basic equipment. With many types of fruit and vegetables, even an all-purpose knife quickly reaches its limits. It is often simply too big for peeling or chopping vegetables, making it difficult to prepare the desired ingredients and also leaves a lot to be desired in terms of appearance. With their small and practical shape, paring knives from Solingen, the city of blades, offer an ideal size and at the same time score points with their immense robustness and cut resistance. Thus, Solingen vegetable knives are the ideal choice as soon as you want to cut or peel vegetables and fruit. We offer you paring knives in different designs from the well-known manufacturers from Solingen. Get inspired to buy a paring knife.
The Felix paring knife is a versatile paring knife from Solingen, which cuts through even hard vegetables such as kohlrabi in a butter-soft cut thanks to the extremely sharp cutting edge and the perfect blade shape. Thanks to the non-slip handle, the Solingen paring knife fits perfectly in your hand and ensures the best result.
The well-known producer WÜSTHOF shows its craftsmanship with the Classic vegetable knife, which, with its slim blade and smooth edge, ensures a unique preparation of fruit and vegetables. Chop, clean and decorate onions and herbs yourself in a sophisticated way. The pointed blade of this paring knife from Solingen even allows you to chew.
At the Güde master workshop, fine wood meets traditional blacksmithing and is combined in the Güde Alpha barrel oak paring knife. The paring knife from Solingen was developed together with star chef Harald Rüssel. Güde uses Fuder barrel wood for the handle, which comes from oak wine barrels that are over 80 years old. This gives the Solingen paring knife a special touch. The design is rounded off by the hand-forged blade made of chrome-vanadium-molybdenum knife steel, which was made from one piece and is therefore rustproof, ice-hardened and hand-sharpened.
Windmill knives Paring knives from Solingen are probably the manufacturer's most finely ground knives. The elongated handle made of cherry wood is characterized by the perfect balance and is elegant in the hand. The graceful look captivates with a great grain. For the blade of the paring knife from Solingen, Windmühlenmesser uses steel in a non-stainless and rust-free version. Both blades of the Solingen paring knife are finely polished by hand and bring the famous "Solinger thin grinding" with them.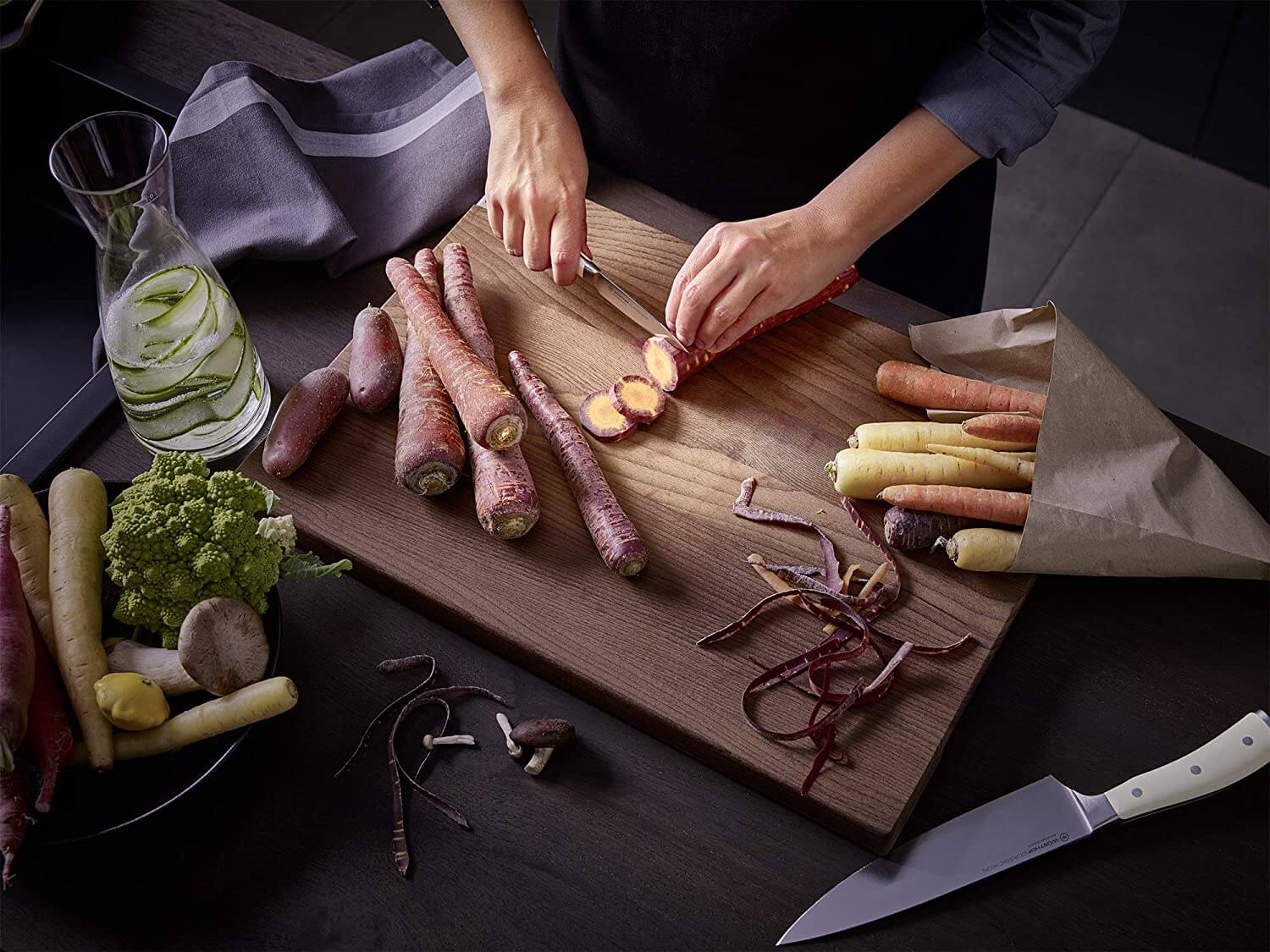 The special thing about paring knives from Solingen
A paring knife from Solingen is particularly handy and easy to use thanks to the short blade of about 9 centimeters. The back of the blade of the models is usually curved and the ground blade is straight. This makes it ideal for cutting all kinds of vegetables. If you reach your limits with a versatile paring knife, for example because of the resistant skin of tomatoes, simply use one of the special paring knives. This is one of the common variants Tomato knife from Solingen for slicing tomatoes and other hard-skinned vegetables. It also offers an excellent alternative Paring knife, which is ideal for peeling apples or potatoes. A knife specially designed for tomatoes and other vegetables with a harder skin has a serrated blade.
Aesthetics and functionality are guaranteed with every paring knife from Solingen. The hand-forged professional knives not only ensure the perfect cut on the kitchen board, but also cut a really good figure in your kitchen thanks to their attractive appearance. A paring knife from Solingen is guaranteed to make every cook's heart beat faster. The pointed blade of a paring knife from Solingen also enables fine work and can be easily cleaned with clear water. After cleaning, drying with a kitchen towel is recommended to avoid rust film on the blade. Thanks to the use of robust special steel during production, Solingen paring knives are particularly resistant to rust and acidic foods.
Buy vegetable knives from Solingen at Messervertrieb Rottner
Take your kitchen work to a new level with a paring knife from Solingen and let the practical possibilities surprise you. You can buy a paring knife conveniently online from us.
From an order value of 30 € we will send your selection free of charge and organize the delivery with our reliable shipping partner DHL in 2 to 4 working days. You will find different and certified payment methods with us, such as convenient purchase on account.
If you have any questions about paring knives from Solingen or would like advice in advance, our knife experts will be happy to help you and personally take care of your concerns. Take now Contact up to us.