Boning knife from Solingen
The
Boning knife
is primarily aimed at separating meat and bones as well as detaching the skin from the meat, whereby its narrow and slightly curved blade enables optimal guidance along the bone. The extraordinary sharpness of a
Boning knife
 and the slim blade are perfect for cutting meat, skin and tendons with little effort. Such a knife is an ideal aid when processing larger pieces of meat. We recommend carving cutlery for professional carving in the kitchen or at the table.
The boning knife - a specialist with tradition
The use of the boning knife is already known from medieval sources. It was mainly used in hunting. Hunters used it specifically for skinning the game they hunted. Due to its properties, it quickly found its way from there to slaughterhouses and butchers and finally to kitchens. This tradition is continued and perfected by the Solingen knife manufacturers. With a boning knife from Solingen you get a knife that is not only perfect for cutting fish and meat, but has also proven itself through its robustness and long cut resistance.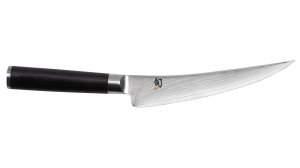 Quality guarantees more security
Especially with an extremely sharp knife like the boning knife, it is important to attach importance to the highest quality in workmanship and material. A knife that is robustly made and lies well in the hand reduces the risk of accidents immensely at the place of use. In the online shop of Messervertrieb Rottner you will find high quality boning knives from Solingen. The greatest expertise and experience of the Solingen knife manufacturers guarantee an effective, long-lasting and as safe as possible work tool that will stand by your side for a long time with proper care and provide its services. If you would like advice on this, please do not hesitate to contact us.