Under a
Chef's knife
one understands an all-purpose knife with which one can cut, chop or weigh meat, vegetables and fish ideally. Due to these diverse areas of application, a
professional
Chef's knife from Solingen
perfect as an all-rounder for the kitchen of professional and hobby cooks. In the assortment of the online shop of Messervertrieb Rottner you will find a wide variety of knives from Solingen that will meet your requirements.
Features of chef's knives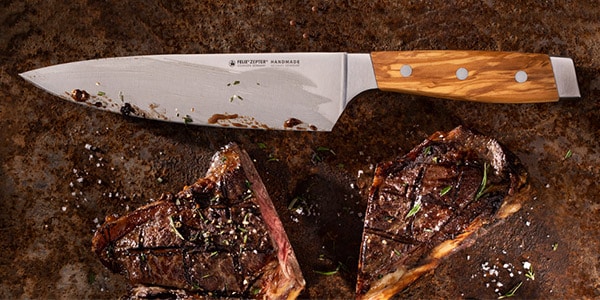 Compared to other kitchen knives are
Chef's knife
relatively heavy and have a fairly long blade. Despite the weight, the arm and hand are relieved when handled correctly. A high-quality knife from Solingen is made in such a way that it exerts pressure on the cut material with its own weight. It is therefore not necessary to use more force when chopping. Furthermore, the knife is well balanced and the point of equilibrium is exactly at the transition between the blade and the handle. The wide blade enables controlled cutting so that precise handling is not a problem. Due to the mostly slight bend of a knife, this knife shape is also ideal for weighing (fine chopping), for example, chives or herbs.
Variants of chef's knives
A
Chef's knife
is often used as an all-purpose knife. In practice, these knives can be used for many things. However, there are different variants that offer certain advantages and simplify the handling of a specific activity. How do the chef's knives differ? The classic one
Chef's knife
usually has a blade length of 16-26 cm. For correct handling, the blade is slightly curved and tapers towards the tip. Chef's knives from other regions therefore often differ in their blade shape. At a
chinese chef's knife
the blade is straight. The function of the knives remains basically the same. In addition, the variants of the chef's knife also differ in terms of the handle. In the online shop of Messervertrieb Rottner you can therefore find knives that differ in the shape of the blade and the materials used for the handle. Here you will find knives with handles made of wood, high-quality and easy-care plastic or other materials.
Chinese chef's knife
Popular chef's knives also include
chinese chef's knife
. The cut surface of this variant is usually not so strongly curved and the top forms a straight line to the handle. Such a knife is a nice addition for certain situations in the home kitchen, but you are adequately equipped with a conventional knife. Anyone on a
chinese chef's knife
If you don't want to do without, you will find various knives with the typical Asian blade shape in our shop. It is up to you whether you prefer a straight or a slightly curved blade shape. However, you should pay attention to the good cut resistance of all variants. If you have any further questions about our products, we are at your disposal. We would also be happy to help you find the ideal knife for your individual use.