Manicure case
Are you looking for the ideal manicure case? The selection of scissors, tweezers or nail clippers is so numerous that it is difficult to decide which utensils are actually needed. With a manicure case from Solingen you will be spared this decision.
Durable and functional
The manicure nail cases are equipped differently so that the right set can be selected for every need. The Solingen knife manufacturers vouch for the high quality of all accessories for every single product. The nail scissors, tweezers, nail clippers or skin nippers are always perfectly processed and made of stainless steel. The high cut resistance and excellent shape of the individual instruments enable the manicure cases and their contents to be a long-lasting companion.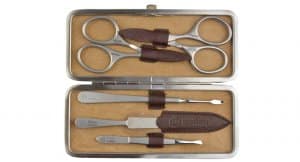 The different sets for manicures or pedicures have different sizes. So you are free to decide how extensive your set should be. To ensure that the utensils for your nail care are optimally protected, the cases themselves are also of high quality. Leather in various designs and solid workmanship adapt to your requirements and offer the fine scissors and pliers ideal protection. Whether you prefer an elegant, simple or upbeat case is a matter of taste. It is important that your nail scissors and files can be ideally stored in each version. For example, the smaller nail cases only contain the basic equipment for nail care. These sets are ideal for on the go or for traveling and fit in every pocket.
Our service for you
If you have any questions about our manicure cases, the Rottner knife sales team will be happy to assist you personally. Do not hesitate to contact us by phone or email. We will take care of your request as quickly as possible and also help you choose your new case. We guarantee you the highest Solingen quality for every product in our range, which has been a tradition for over a hundred years. In our "Interesting Facts" category you will also find useful tips and tricks on how to best care for the various blades and scissors from Solingen.