Hairdressing scissors - for precise cuts
There are professions in which the highest precision is required - and that in several ways. A trained eye, craftsmanship and professional tools are the be-all and end-all. In the hairdressing trade, this is exactly what is required. In the Rottner Messervertrieb online shop we offer you a large selection of hairdressing scissors by professionals for professionals.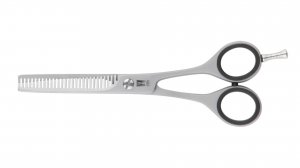 The professional hairdressing scissors from Solingen
Hairdressing scissors with the seal of approval and quality "Made in Solingen" stand for excellent quality and precision. In the manufacture of professional hairdressing scissors, traditional craftsmanship is combined with state-of-the-art processing technologies: The result is hair scissors for professionals. The Witte company from Solingen is known for its traditional scissors production. The company has been producing scissors of the highest quality and quality for over 45 years. Stainless blade material, scissors for right and left-handers and various blade properties speak for the high quality of the cutting tools for hairdressers. The hair scissors from Witte are available for the small budget as well as in the higher price segment. Another characteristic that distinguishes the hairdressing scissors from Solingen is their ergonomic shape. Finger hooks and inner finger rings ensure that the products are easy to handle.
Hairdressing scissors - more than just a tool for cutting hair
Hairdressing scissors, thinning scissors, modeling scissors and hairdressing knives are usually part of the standard equipment of hairdressers. Witte has also thought of the different needs: Most scissors for hairdressers are available in different sizes and are characterized by their low weight. Take a look at our online shop and find the right hairdressing scissors for your needs.
Our recommendations: