All-purpose knife - the all-rounder for your kitchen!
The all-purpose knife is also known under the name universal knife or paring knife. The all-purpose knife shows its qualities as a real all-rounder, which presents itself with a short, narrow and pointed blade of approx. 10 to 15 cm. Thanks to this well thought-out and, above all, extremely handy design, the universal knife is suitable for almost all purposes and is one of the most reliable kitchen aids for amateur cooks and professionals alike. At its core, the all-purpose knife combines the best properties of a chef's knife and paring knife and cuts an elegant figure both when cutting fruit and vegetables and when chopping sausage and cheese specialties or smaller portions of meat. If you treat yourself to an all-purpose knife from Solingen, you are well prepared for numerous situations in the kitchen. If you cook or prepare less yourself, even a utility knife alone is sufficient.
With us at Messervertrieb Rottner, now in the 4th generation, you will find a large selection of high-quality knives from Solingen, which impress with their choice of materials as well as the unique workmanship. Experience what happens when the high craftsmanship of knife forging, complex manufacturing processes and traditional manufacturing methods meet innovative technologies that ensure maximum precision. Solingen all-purpose knives impress all along the line and leave no doubt about the unique traditional work of the premium manufacturer in the world-famous knife city. Feel free to look around our range at your leisure and discover the exquisite all-purpose knives from Solingen. You can order your favorites directly afterwards in our online shop.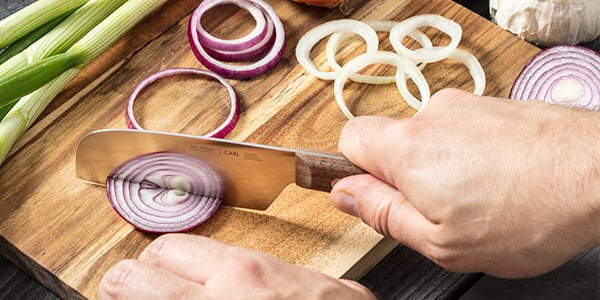 The advantages of a utility knife
The all-purpose knife lives up to its title as an all-round talent in the kitchen. It usually comes with a smooth, narrow and relatively short blade, but can also be refined with a serrated edge. Due to its practical and handy shape, the all-purpose knife can be guided very well and easily. Vegetables, fruit, smaller pieces of meat and even herbs can be prepared effortlessly. With an all-purpose knife from Solingen, you can skilfully peel and cut onions, chop garlic, portion ham or conjure up a cheese platter.
Basically, a Solingen all-purpose knife is suitable for numerous purposes, but does not replace special equipment in every respect. If you cook a lot with fresh ingredients or often process whole meat, it is advisable to have your knives on Chef's knife, boning knife and chopping knife. You reach for the all-purpose knife in particular when it comes to preparing smaller quantities.
In summary, the areas of application of a universal knife are:
peel fruit
peel vegetables
Cut and wash vegetables
chop herbs
cut smaller pieces of fish and meat.
What is important in an all-purpose knife?
Since a universal knife is used much more frequently than, for example, a Steak knife, all-purpose knives must have robust workmanship and high resilience. Solingen all-purpose knives are made of iron-hardened steel, which impresses with its stability. The sharpness of an all-purpose knife from Solingen is also uncompromising. The all-rounders can also be resharpened without any problems so that you get the desired cut resistance in the long term. If you use an all-purpose knife every day, even in this case maintenance is completely uncomplicated. Although some utility knives from Solingen are suitable for cleaning in the dishwasher, we recommend rinsing the knife with warm water and drying it with a soft cloth.
With all-purpose knives, you should make sure that it fits comfortably in your hand and that you can use it cleanly and precisely at all times when peeling or cutting. The handles of the Solingen all-purpose knives are ergonomically manufactured from selected types of wood. They are therefore well-balanced and comfortable to hold and impress with their soft feel. Even when things have to be done quickly, you have an all-purpose knife under control.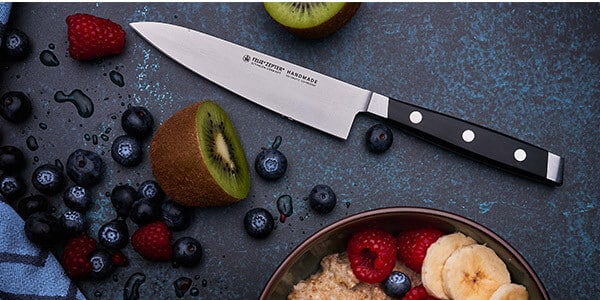 Our selection of Solingen utility knives
At Messervertrieb Rottner we offer you a wide range of all-purpose knives from well-known premium manufacturers from Solingen such as Felix or Windmühlenmesser. Decide on a universal knife from Solingen based on your personal requirements. Whether a blade with a double-sided hollow grind or a serrated serrated edge, you are guaranteed to find what you are looking for with us.
The multi-purpose knife from Windmühlenmesser meets even the highest demands on preparation and scores with its excellent cutting properties thanks to the compact blade, which presents itself with a gentle curve. The handle of the all-purpose knife made of apricot wood impresses with an elegant grain, immense robustness and extraordinary elegance.
The Felix First Class Wood preparation knife is just as reliable, with a longer blade compared to other all-purpose knives. Therefore, the all-rounder is suitable not only for cutting and cleaning, but also for filleting.
Or opt for the Wüsthof Classic universal knife, which with its narrow blade is perfect for cutting meat and chopping even larger fruits and vegetables. The handiness of the Solingen all-purpose knife is extremely concise in use.
Order your all-purpose knife from Solingen now at Messervertrieb Rottner
Don't make any compromises when it comes to your all-purpose knife, instead opt for a universal knife from Solingen right from the start. From an order value of 50 € we will send your delivery free of charge within Germany. Our shipping partner DHL takes care of the shipping. Your Solingen all-purpose knife will be with you within two to four working days. We also provide you with different and certified payment methods.
Guaranteed quality is a matter of course for us. We give you a price guarantee on an all-purpose knife from Solingen. This means that if you find the same universal knife in another online shop based in Germany at a lower price including the shipping costs and provide us with proof, you will receive a 3 % discount from us.
If you have any questions about an all-purpose knife from our range or would like some advice, please do not hesitate to contact us Contact to our competent service experts from Messervertrieb Rottner. We take care of your request at any time.