We are often looking for an extraordinary gift for a special occasion or for a special person. Something that comes with a sophisticated look and inspires with its functionality. Anyone who wants to surprise away from the traditional should take a look at high-quality kitchen gifts. Anyone who enjoys cooking with passion and love knows that it is important to be able to rely on the right kitchen helpers. With kitchen utensils as a gift, you are guaranteed to be spot on for amateur cooks as well as for professionals.
Above all, the unique knives from the knife city of Solingen are gifts for the kitchen that make every connoisseur happy. The impressive cutlery is still manufactured in the world-renowned manufactories using traditional craftsmanship and is presented in a remarkable quality that is second to none. Haven't you found the perfect kitchen gift yet? With us you are guaranteed to find what you are looking for. Be inspired by our gift ideas for kitchen utensils and get to know our comprehensive range.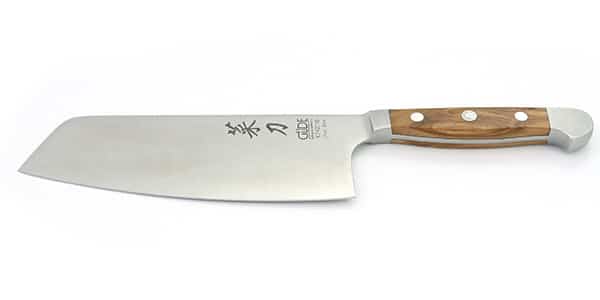 Why buy knives and kitchen utensils as gifts?
The kitchen has become the center of life in recent years. Here you get together with the family and cook together with good friends. In addition to the furnishings, a modern and cozy kitchen also includes the equipment. High quality Professional kitchen knife play a decisive role and are symbolic of the new culinary culture and the pleasure of enjoying good company. They act as design objects and have to meet the high demands of different cutting jobs. Likewise, puristically designed kitchen utensils made of stainless steel, for example, which cut a fine figure as kitchen gifts, embody the traditional, the authentic and the honest. Sometimes kitchen gifts are also souvenirs, such as the knives from Windmühlenmesser, which has been making carbon steel cutting tools for more than 100 years.
Which kitchen gifts you decide on in the end depends largely on the preferences of the recipient. Please allow yourself a little more time to choose. Browse through our range at your leisure and discover kitchen gifts with a special touch.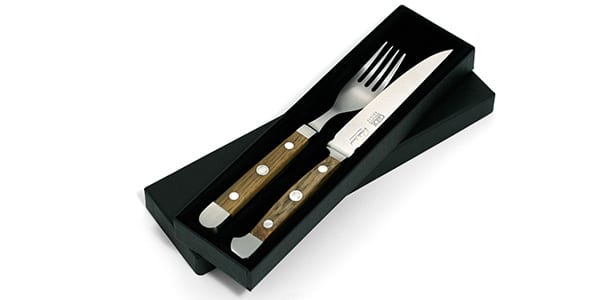 Our gift ideas from kitchen utensils to cutlery
Professional kitchen knives are irreplaceable for professionals, amateur chefs and everyday use. They facilitate the preparation of numerous dishes and help ensure that every dish is a success in no time at all. With our knives as kitchen gifts, we make no compromises in terms of quality and only offer you knives from the best Solingen manufacturers who manufacture their products according to traditional craftsmanship.
A recommendation are knife blocks or knife holders as kitchen gifts, which ensure that the right knife is at hand at every moment when cooking. Magnetic knife holders, to which the cutting tools adhere easily, are particularly popular. The classics, on the other hand, are Knife blocks made of precious wood that exude a rustic charm.
Cutlery and cutlery sets from Solingen show that gifts for the kitchen can be practical and at the same time a real eye-catcher. As a kitchen gift, they are far more than just basic equipment and complement a finely laid table with a sophisticated design. With these kitchen utensil gifts, we have put together a selection of cutlery made of stainless steel for you, which, manufactured in Solingen, scores with quality and appearance. All cutlery items, such as forks, knives, tablespoons, cake forks and coffee spoons, are coordinated with each other.
Lovers of a good steak need the right tool for the perfect preparation. In that case, steak cutlery is an excellent idea as a kitchen gift. Thanks to their sharpness, the special and handy knives ensure that the meat can be divided cleanly without crushing the fibers.
On the other hand, when it comes to cutting and dividing a roast at the table that is served on a festive occasion, the carving set is the best companion. Carving has been considered a high art for centuries, so the cutlery is always a special kitchen gift with a long tradition.
Not only meat lovers get their money's worth with our gifts for the kitchen. Our high quality salad servers come from the production of Carl Mertens, who completely reinterprets them in a uniquely elegant way. Round shapes, classic lines and the use of high-quality materials characterize the sophisticated designs.
As a supplement to our knives as kitchen gifts, we offer the right cutting boards made of high-quality wood. The natural, renewable raw material has numerous positive properties to convince as a cutting board. Wooden scabbard pads are gentle on the blade, antibacterial and easy to clean. If you decide on this kitchen gift, you will find modern boards in unusual shapes and designs in addition to classic variants.
Our tip for your kitchen gift: a personal engraving
We from Knife sales Rottner offer you a special service when you buy a knife as a kitchen gift. On request, we can refine your selection with an individual engraving. Simply use our product configurator and design the knife directly online. Different fonts and graphics are available to you. Give your kitchen gift a personal touch with the high-quality laser engraving. The live preview gives you an immediate idea of the result. A gift idea that conjures up real unique items from kitchen utensils.
Discover high-quality kitchen gifts at Messervertrieb Rottner
Kitchen gifts are a brilliant idea for anyone looking for something exquisite. From a purchase value of €50, your order will be sent to you free of charge within Germany with our shipping partner DHL. Our delivery takes place within 2 to 4 working days. In addition, we offer you different payment methods, such as purchase on account.
Would you like advice on our kitchen gifts? Our knife professionals will be happy to help you with your selection. Just take Contact up to us. We are personally there for you at any time.