Knife set from Solingen
With a good one
Knife set
a variety of different cutting jobs that occur in the kitchen can be carried out. Whether it's chopping vegetables and fruit, chopping herbs or precisely cutting meat into slices or cubes, with ours
Knife sets
from the Solingen knife manufacturers you are prepared for all applications. The online shop of Messervertrieb Rottner offers you among many others
Knife sets
also offers sets of high-quality Asian knives from Felix. For the first time in the world, razor blade steel with a unique edge retention was used for the blades. You can find out more about this directly in the description of the respective product. With the Felix Resolute Asia and Felix Absolute Asia sets, you get top-quality products that cannot be surpassed in terms of quality and finesse.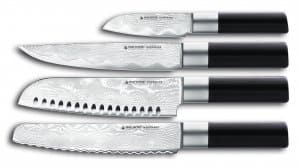 Always a suitable gift
Depending on the occasion and the person being celebrated, choosing the right gift is difficult. And the bouquet of flowers and the box of chocolates are not always appropriate. A knife set is the perfect gift idea here. Because no matter if man or woman, wedding or birthday, everyone cooks. Some cook more, others less, but everyone needs knives in the kitchen. And even if these knives are not used often, they are all an eye-catcher.
The right chef's knife set for you
Getting a good one
Chef's knife sets
needs to be considered carefully. After all, these high-end tools will accompany you for a lifetime if properly cared for. We at Messervertrieb Rottner are at your disposal to help you make the right choice of knives for your special requirements. Thanks to our many years of experience and the close cooperation with the Solingen manufacturers, you can rely on our advice both in terms of acquisition and the correct maintenance of your
Chef's knife sets
trust. Contact us - the satisfaction of our customers is our top priority.