Jagdnicker - exclusive hunting knives from Solingen
Jagdnicker are among the classics among hunting knives. Hunters need to rely on their craft tool like that Hunting knife being able to leave. That is why we at Messervertrieb Rottner have made it our business to equip hunters with professional hunting knives.
The Jagdnicker are also called Nickfänger, Knicker or Nod designated. The 15 to 20 centimeter long blade is typical of this type of knife. With the Jagdnicker, the game is killed by a targeted stab in the neck, hence the name "neck catcher". Thanks to the narrow, fixed blade this is suitable Hunting knife excellent for breaking up the hunted game, but can also be used for other tasks of the hunter.
Jagdnicker and their special features
In the online shop of Knife sales Rottner you will find a large selection of hunting nikers - all made in Solingen - from Puma to Hubertus to red deer hunting nikers. All Jagdnicker are made by hand and impress with their beautifully structured and attractive bowls made of stag horn or micarta. The blade material of the Jagdnicker from Solingen is rust-free and made of forged materials on most models. Some knives, such as the Hubertus Nicker, are equipped with an additional saw that can even cut bones.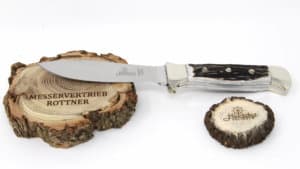 Hubertus Jagdnicker - handcrafted knives
Hubertus is well known to every hunter. The name "Hubertus" has been a registered and protected trademark for cutlery and tools since 1899. The company has been based in the blade city of Solingen since 1932. And then as now, the brand stands out Hubertus both Hunting knives by the careful handwork and the high-quality materials that are used for the manufacture of the knives.
Deer hunting and outdoor knives
Deer is also a term among them Hunting nod. The knives are characterized by their robustness and functionality. And thanks to their shape, the hunting knives from Solingen are ideal for breaking up game. Many of the Rotwild Jagdnickers have the tang, blade and pommel made from one piece, which makes them much more robust than other knives.
Puma Jagdnicker - Quality from Solingen
Puma knife have impressed with the highest quality and workmanship since 1769. Today the company combines traditional manual production with the state-of-the-art technical know-how. And the result is really good.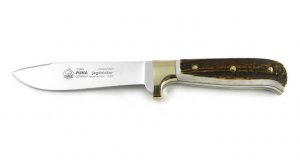 Tip: When you buy a Jagdnicker in the online shop of Messervertrieb Rottner, you may receive a voucher for one professional resharpening.