Jagdnicker Solingen – Reliable quality
Without a doubt, Jagdnicker are among the classics among hunting knives. It is essential in your work that you can always rely on your equipment. For this reason, we at Messervertrieb Rottner have specialized in Jagdnicker knives from Solingen, which impress with their unique quality, impressive workmanship and sophisticated design across the board. Our competent team of experts has set itself the task of providing you as a hunter with professional Knives from Solingen to provide you with targeted support for outdoor use.
The Jagdnicker is also known as a nod catcher, knicker or nicker. Typical of this type of knife is the 8 to 12 centimeter blade. A Jagdnicker is the first choice when it comes to a targeted stab in the neck of the game. Therefore, the name "neck catcher" is not infrequently used. A Jagdnicker Solingen is just as effective in breaking up the hunted game and takes on many other tasks.
In daily use, you need to be able to rely on a Jagdnicker. After all, quick action and a precise approach are essential. This is exactly what Jagdnicker from Solingen meet, which are still carefully manufactured in real craftsmanship in combination with the latest technology. The quality of hand-forged Jagdnicker from Solingen is unmistakable and will not only convince you, but inspire you. We carry classic Jagdnicker with elegant and haptically sophisticated staghorn scales in the typical blade length of 8 to 12 centimeters from well-known Solingen companies such as Hubertus or PUMA. In addition, you will find first-class models from the Solingen-based manufacturer Otter Messer with its Rotwild brand in our range. You can buy the selected Jagdnicker directly from us in our online shop.
Since 1939 and now in the 4th generation, we at Messervertrieb Rottner have been offering the highest quality cutlery from Solingen, with the aim of equipping you with the best hunting knives for every mission. Trust in our competence. Every Jagdnicker Solingen has been manufactured in a complex manufacturing process from high-quality materials such as strong blade steel or stainless high-performance steel and finished with handles made from staghorn or similar. These lie ergonomically particularly well in the hand and ensure precise guidance. You buy our high-quality Jagdnicker from us with the good feeling that you are choosing exquisite quality. Take a look for yourself in our range of different ones fixed hunting knives around and find a model that is guaranteed to more than meet your requirements. Experience something special when professional expertise and pure passion for knives "Made in Solingen" come together.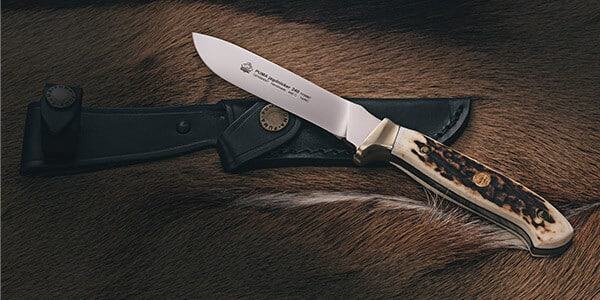 Find your Jagdnicker now
In the online shop of Messervertrieb Rottner you will find a large selection of Jagdnicker 100 % "Made in Solingen". We carry a wide variety of PUMA, Hubertus and Rotwild Jagdnicker models. All Jagdnickers are made by hand and impress with their beautifully structured and attractive scales made of staghorn or micarta. The blade material of the Jagdnicker from Solingen is stainless and in most models made of forged steel. Some knives, such as the Hubertus Nicker, are equipped with an additional saw that can even cut through bones.
What can you expect from us at Jagdnicker?
How about Jagdnickern Solingen from Hubertus, a manufacturer that has been offering perfect cutlery since 1899? With the move to Solingen in 1932, the company took the decisive step and has always been one of the best handicraft businesses of Jagdnickern in Solingen, which is valued far beyond the borders of the knife city and even Germany. The knives are known for precise cuts and for their impressive sharpness. This is made possible at Jagdnickern Solingen by the selection of high-quality materials and careful manual work. The 10 to 12 cm long blade of the Jagdnicker Solingen from Hubertus is made of stainless high-performance steel. The handcrafted Jagdnicker should be your first choice when tracking down big and small game.
Rotwild, as a brand under the manufacturer Otter, is also a household name among hunting nickers. The knives are characterized by their robustness and functionality. The shape of the Jagdnicker Solingen is ideal for breaking up game. In many of the Rotwild Jagdnicker, the tang, blade and pommel are made from one piece, which makes them significantly more robust than other knives. The blade is made of stainless steel and the handle scales are made of micarta, wood or staghorn. A sturdy leather sheath is included. The Jagdnicker Solingen are particularly functional, robust, stable, sharp and even look good.
In addition to red deer, the Jagdnicker Solingen from PUMA are of the same high quality. The Solingen company has been producing impressive models in different variants to the highest standards since 1769 and combines traditional manual work with the most modern and technical know-how during production. With the Jagdnicker Solingen from PUMA, you can look forward to high-quality steel, brass ferrules and decorative caps, some even with decorations and a shapely stag horn handle.
Note: Please note the legal requirements for certain knife shapes that require a hunting license. Without a legitimate interest that is legitimized by the hunter's profession, you may only carry a fixed knife with a blade length of up to 12 centimeters. Different requirements therefore apply to hunters and gatherers. Feel free to inquire about the latest weapon law.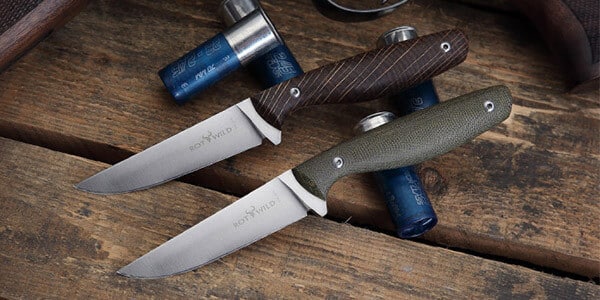 Use our service at Jagdnickern
Your Jagdnicker is used daily or at least very regularly? Use one Sharpening steel or whetstone and sharpen the Jagdnicker Solingen once a week. The basic sharpness is retained for longer and the service life is increased. Especially when the blade of your Jagdnicker Solingen has been blunt for a while, a professional sharpening service like ours can usually help. In order to be able to offer you this service for your Jagdnicker Solingen, we work together with a Solingen grinding shop. We have enclosed a voucher card for our sharpening service with many Jagdnickers from Solingen. You are welcome to arrange an appointment with us.
Buy Jagdnicker from Messervertrieb Rottner
A Jagdnicker from Solingen should not be missing from your selection. Convince yourself. Your favorite will be on its way to you free of charge within Germany with our reliable shipping partner DHL from an order value of 50 €. The shipping time is usually 2 to 4 working days. With us you will also find certified and secure payment methods such as purchase on account.
Are you looking for a truly unique item or do you want to give away a Jagdnicker Solingen? We can laser an individual engraving onto the blade of a selection of hunting knives. You decide on the motif, name or a small message.
Do you have any questions about our Jagdnicker from Solingen? Our service experts from Messervertrieb Rottner will be happy to help you and provide you with comprehensive advice if you wish. Take now without obligation Contact up to us.