The right grater
Rubbing from Solingen
Producing graters in Solingen has particular advantages. This not only includes the short delivery routes, but you also benefit from the good quality of the products. Another important point is sustainability, because the companies pay close attention to the materials they use. With the packaging of the graters, too, we work towards ensuring that everything is environmentally friendly. If individual parts of the kitchen appliances are interchangeable, the service life is also increased and you can enjoy the articles for many years.
Practical parmesan grater
With our Parmesan grater you can also make delicate grated cheese from a hard type of cheese, because it is very easy to use. This is due on the one hand to the material and on the other hand to the sharp rubbing surface. The product is made of stainless steel and you can even clean the item in the dishwasher. You can attach an additional element to the grater that will catch the grated cheese. After use, this part also serves as a blade guard. The knobs attached to the feet offer a secure stand. Often times, small pieces of cheese are left over after chopping. So that you don't injure yourself when you want to process the leftovers, we have a leftover holder in our shop. It is suitable for all devices with a wire bow handle.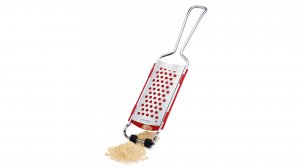 Cheese grater - an important utensil in the kitchen
Grated cheese is part of many dishes. In stores, the cheese is already packaged, but the cheese simply tastes better when it is freshly prepared. A cheese grater can be used to grind all kinds of cheese. It does not matter whether you want to make cheese, pens or slices. After all, when processing cheese, it's not just about the visual impression, but also about the aroma.