High-quality pocket knives Solingen - your companion
If you like to spend your free time outdoors and are always looking for an unforgettable outdoor adventure, then a high-quality pocket knife from Solingen is your reliable companion in almost every situation. The specially developed variants with the characteristic folding function are robust, stable and, above all, designed to be practical. In addition to the handy size, high-quality pocket knives from Solingen impress with their multifunctionality, as well as with modern locking technology and elegant designs. Rounded off with exquisite materials and an impressively sharp blade, high-quality pocket knives from Solingen are your first choice if you are drawn to nature. Of course, the models also cut a particularly good figure in everyday life.
Take your time and look around our large selection of high-quality pocket knives in Solingen. Since 1939 and in the 4th generation, we at Messervertrieb Rottner have been offering you unique Knife from Solingen in the highest cutlery quality from the world-famous knife city of Solingen. Each high-quality pocket knife is still elaborately manufactured in Solingen using traditional craftsmanship. A quality feature that makes the difference in pocket knives. Selected materials are used, such as stainless blade steel for incomparable robustness and sharpness, as well as deer horn, the finest precious wood and light micarta for ergonomically shaped handle scales. With us you can be sure that you are buying a high-quality pocket knife that will give you many years of pleasure and will provide reliable service. Because we know it matters when you're on the road. Let our high-quality pocket knives from Solingen convince you.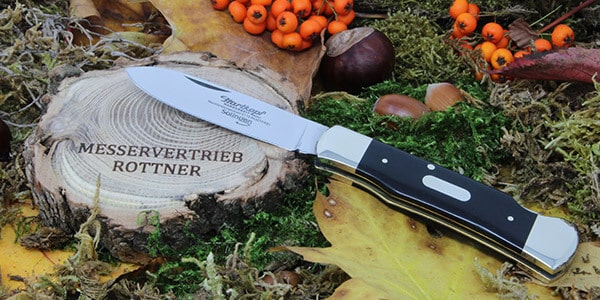 This is what you can expect from our high-quality pocket knives "Made in Solingen"
Folding pocket knives from the Solingen knife manufacturers have proven particularly useful for outdoor use. They are not only processed to a high standard, but also developed for specific circumstances depending on the design.
What can you expect from us in terms of high-quality pocket knives from Solingen? Take a look for yourself.
The pocket knife Marmota by PUMA IP, for example, is ideal for hunting. Its beautiful design with an elegant olive wood handle and bolsters made of stainless steel is immediately noticeable. The finger recesses incorporated into the handle ensure a particularly good grip. A midlock system is used to lock the blade. The high-quality pocket knife from Solingen is rounded off with a leather case in which you can choose from various models. Equally elegant is the PUMA IP Carabo, in which the well-known manufacturer combines a handle made of deer horn with bolsters made of exquisite grenadil wood. If you are looking for a special knife for hunting and have higher demands on your tool, such as cutting up game, take a look at our category for Hunting knife around.
The tried and tested Mercator knife from OTTER is ideal for the next camping trip with friends. This is particularly narrow, yet cut-resistant and robust. An ingenious feature is the clip, with which you can easily attach the high-quality pocket knife from Solingen to your equipment or belt. The handle, made of a choice of different materials such as copper, has a matt surface. As is usual with Mercator models, opt for a stainless steel or carbon steel blade. The high-quality pocket knife from Solingen impresses with a long-lasting shaft and can be easily sharpened if necessary.
The small, high-quality pocket knife from Solingen by Hartkopf with a blade made of stainless steel 1.4034 is an excellent choice if you are looking for a utility knife for everyday use. Dark ebony is used for the handle scales, while the handle is a combination of brass plates, ebony scales and nickel silver bolsters.
High-quality pocket knives from Solingen combine traditional knife manufacture with the requirements of the wilderness or when camping. This gives you high-quality blades with the best workmanship that are guaranteed to never let you down.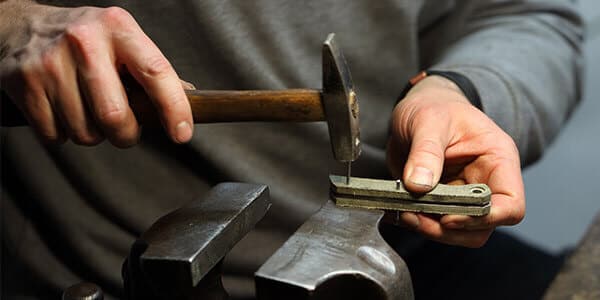 A special feature for us at Messervertrieb Rottner
We have a special version ready that was designed for the requirements of the Federal Agency for Technical Relief. The SGT-coated blade made of stainless steel 1.4110 is particularly robust and lights up for several hours depending on the charge. In addition, the special knife is equipped with a lockable mandrel. So it can easily be used as a knot remover. The design is complimented with an anodized AlMg3 aluminum handle, a trouser clip, a liner lock with safety stop and a seat belt cutter.
The different knife shapes
With almost all high-quality pocket knives from Solingen, you can choose between different shapes and designs. This gives you the same high quality as with the fixed knives, but remains much more flexible.
High-quality pocket knives from Solingen prove to be excellent companions with the same cut resistance and robust workmanship, especially in the outdoor area. On the one hand, when folded up, they can be ideally placed in any pocket and, on the other hand, allow the blade to be fixed and snapped into place. This ensures safe handling without a pocket knife from Solingen accidentally folding in.
Which blade shape you ultimately decide on depends on what you want to use the pocket knife for. This is also the reason why several blades and other tools are installed in many of the high-quality Solingen pocket knives. Alternatively, you can opt for single-sided or double-edged blades.
The blade shape of the pocket knife can also be decisive for you. If you are not sure which knife shape is best for you, please take a look at our "Blade Shapes" section. Here is an overview of the different knife shapes.
If you still have questions, do not hesitate to contact the knife experts at Messervertrieb Rottner. We will also advise you personally and explain the advantages of the different blade shapes and your selection of a high-quality pocket knife from Solingen.
Buy high-quality pocket knives from Solingen at Messervertrieb Rottner
A high-quality pocket knife Solingen is your guarantee for every outdoor experience and gives you the good feeling of being well prepared for every situation. From an order value of 50 €, your order will be sent to you free of charge within Germany. We organize reliable logistics with our shipping partner DHL. The shipping time is generally 2 to 4 working days. We also have different and certified payment methods ready for you, such as secure purchase on account.
If you have any questions about our high-quality pocket knives from Solingen, just take it easy and uncomplicated Contact up to us. We are happy to take the time for a comprehensive consultation.