Buckelsmesser Solingen - for your perfect breakfast
Hunchback knives from Solingen have a particularly long tradition and, with their unique blade, are the specialists when it comes to perfectly slicing and dividing bread and rolls. The name of the blade, which can be traced back to the word "belly", already gives an idea of the special features of the Solingen breakfast knife. The round, bulbous course of the blade is the typical feature of the high-quality, old German table knives. It is considered to be the oldest blade shape in Germany.
For many years we have Knife sales Rottner We are now in the 4th generation dedicated to the passion for the high art of knife making from Solingen and offer our customers a well-assorted selection of high-quality knives from the valued knife manufacturers. The high quality of genuine Solingen knives is known worldwide today. Of course, the extraordinary buckle knives from Solingen also find a place in our range and ensure perfect slices of bread and halves of rolls on your breakfast table.
Experience for yourself the combination of traditional craftsmanship and modern techniques and let yourself be impressed by the masterful craftsmanship. Manufacturers such as Windmühlenmesser, Güde, WÜSTHOF and Otter have shaped the art from the knife city for decades and give the quality mark "Made in Germany" its true meaning. The breakfast knives from Solingen are among the most popular knives that you can buy directly from us in our online shop.
Be inspired by our selection of slicing knives and find your personal unique piece that cuts a more than good figure on your breakfast table, but certainly also on your dinner table. Quality you can feel with every cut.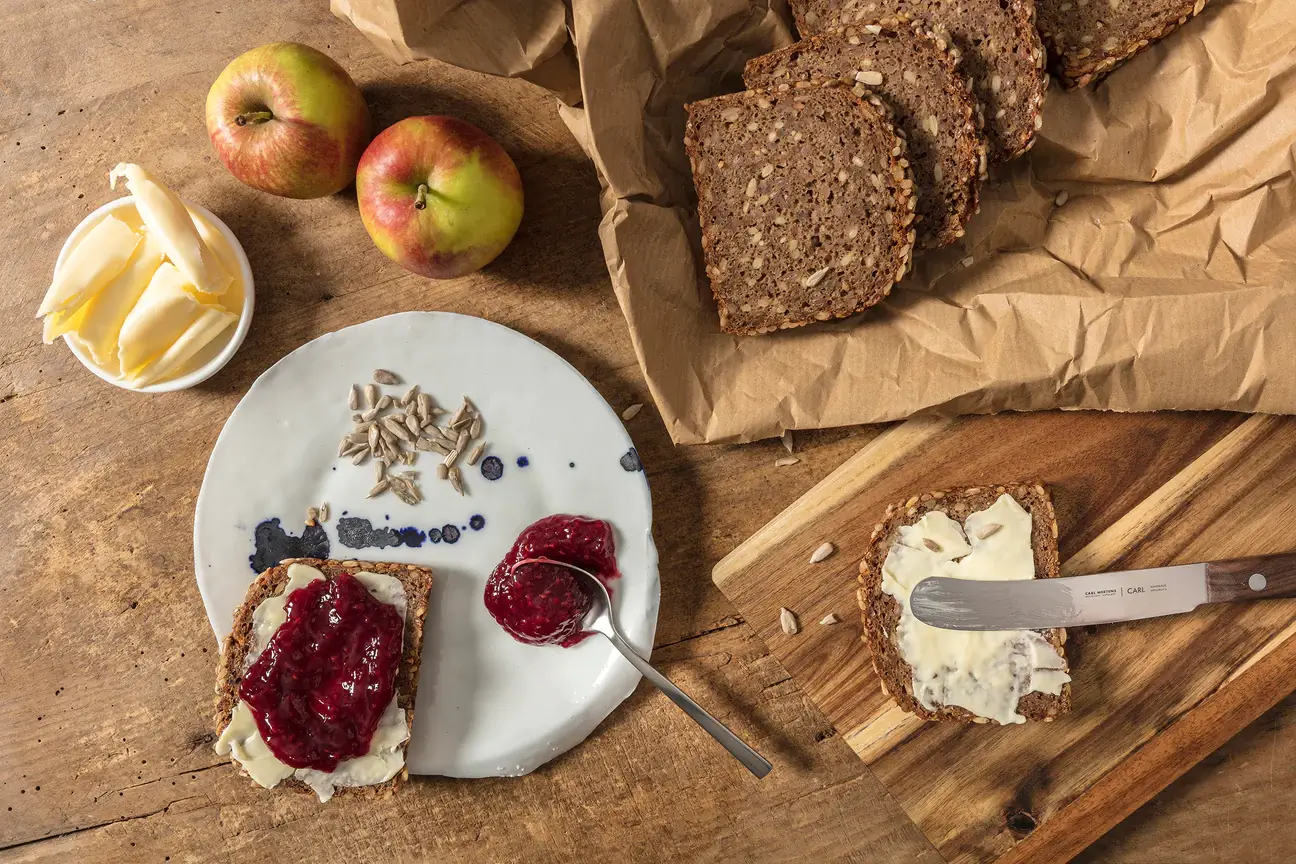 Why should you buy a breakfast knife from Solingen?
The assortment kitchen knives is mainly intended for preparing food. It is therefore worth optimally supplementing your own knife stock with dining knives in order to meet the special requirements in different situations. This category mainly includes table knives and buckle knives from Solingen. Hunchback knives are ideal for slicing, slicing and even greasing bread and rolls. Thanks to their knife shape, you can use the breakfast knives from Solingen for a balanced breakfast, to prepare snacks during breaks or for dinner together. A table knife is also perfect for cutting up roasted meat or freshly baked cakes.
With a high-quality buckle knife from Solingen, you get a reliable companion that demonstrates its advantages at every table. The smart breakfast knife Solingen has a rounded tip and a blade with or without a serrated edge. Bucket knives with a wooden handle are not suitable for the dishwasher as the wood suffers in the dishwasher. Rinse your breakfast knife under water and then dry it. With good care, such a table knife will last for a long time and can be used for every meal.
Etiquette tip: At a table, either everyone gets their own buckle knife from Solingen, or you put a breakfast knife in the bread basket so that everyone can help themselves.
Our selection of buckle knives from Solingen
Even if the name suggests it, the buckle knife from Solingen is not only ideal for breakfast alone. The shape of the so-called hump blade of the well-known Solingen breakfast knife is characterized by its extraordinary sharpness and the slightly curved, rounded tip. The sharp blade is ideal for cutting cheese or sausage slices and bread. With the round blade tip, jam or butter can be spread perfectly. When preparing classic sandwiches or for smearing breakfast rolls, a buckle knife from Solingen proves to be extremely robust and handy at the same time. The blades are cut-resistant for a long time and can be easily resharpened.
A true masterpiece of a buckle knife from Solingen, for example, is the Güde Alpha Olive table knife, in which 500-year-old olive wood from sustainable wood cultivation is combined for the handle with the hand-forged chrome-vanadium-molybdenum blade. A buckle knife from Solingen is made from one piece with a blade hardness of 56 HRC, is ice-hardened to rustproof and is hand-sharpened.
The windmill knife Buckelsmesser Solingen has been provided with the "Solinger thin grinding" for over 140 years and is considered the most traditional breakfast knife from Solingen. The unmistakable shape ensures that cutting and spreading succeed in perfection. The broad and sharp blade allows for an exact cut. The smooth, thin cut without a serrated edge cuts bread effortlessly and prevents unwanted crumbs on rolls.
With the Otter breakfast knife made of oak, you get a classic that is a real eye-catcher on the breakfast table with its elegant wooden handle and the traditional shape of the Solingen buckle knife. The rustproof blades impress with their inimitable sharpness.
If you are looking for a modern interpretation of the buckle knife from Solingen, the Gehring Satino lunch knife is an excellent choice. It consists of a corrosion-resistant 12 cm blade with a slightly rounded cutting edge and the typical serrated edge. This makes the Buckelsmesser Solingen a true all-rounder both on the breakfast table and for the preparation of vegetables and other foods. The knife handle is made of 18/10 stainless steel, which ensures an elegant look.
The Wüsthof Classic roll knife also shows its strengths when it comes to cutting rolls without damaging the dough. At the same time, the Solingen breakfast knife is ideal for chopping vegetables or cutting salami in one piece. Even as a cheese knife, it's a top-notch choice.
The various buckle knives from Solingen, which you can purchase in the Messervertrieb Rottner online shop, should always be cleaned by hand as they have a fine wooden handle. In order to ensure that the knife lasts for a long time, you will find important tips for the care of steel and wood in our care instructions. Our support team will be happy to answer any questions you may have about the breakfast knives from Solingen and how to look after them, by phone or email.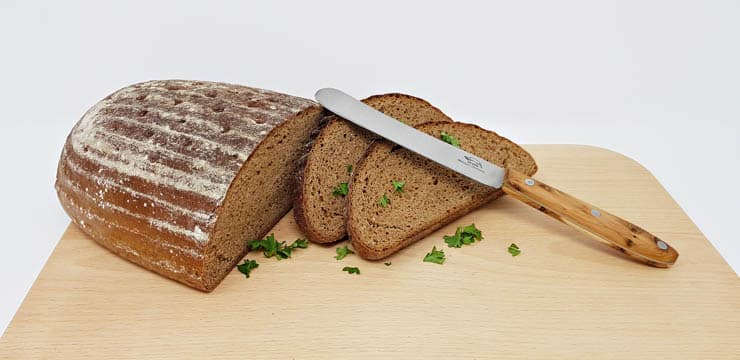 Buy Buckelsmesser Solingen at Messervertrieb Rottner
Order your Buckelmesser from Solingen from our online shop and give your breakfast the last cut. With us you can expect the high quality of genuine Solingen craftsmanship. From an order value of 50 € we will send your selection of breakfast knives from Solingen free of charge in a few working days. We organize the logistics with our reliable shipping partner DHL. With us you have the choice between different and certified payment methods such as convenient purchase on account.
If you have any questions about buckle knives from Solingen or would like advice, our knife experts will be happy to help you personally. Do this by phone or email Contact up to us. We look forward to you!