Knife block with knives - organized and ready to hand
Each knife brings its special qualities with and the selection is always individual. It is important that you always have the right cutting tool to hand based on your requirements. Some kitchen and chef's knives are part of the basic equipment and can already be used for a variety of cutting jobs. A knife block with knives will bring you that advantagethat you directly with the most important knives are equipped and the knife block set can be easily expanded if required. A knife set with a block also ensures that you always know that your high-quality knives from Solingen are well-kept and ready to hand for kitchen work. Reliable, even when things get turbulent.
In addition to our large selection of single knives you can find us from Knife sales Rottner Shapely knife blocks with knives that convince with quality and a sophisticated look. Our knife block sets are still made with real craftsmanship by traditional Solingen manufacturers who enjoy a high reputation worldwide.
When it comes to our knife blocks with knives, we rely on high quality because we know from experience that the expertise that goes into hand-forged cutting tools stuck, is still very much appreciated today. Due to our partnership with numerous well-known manufacturers, we therefore offer you a selected assortment of knife block sets for home and professional use. From classics to real innovations, there is something for everyone. With a knife block with knives, you always choose a perfect solution and you can enjoy your reliable companions for many years to come. A knife block set is always an interesting and unusual one gift idea.
We invite you to take your time through our Online shop to browse and discover a high-quality knife block with knives from, among other things, Wüsthof. In addition to the practical composition, the unique look of our products, which become a stylish eye-catcher in every kitchen, is convincing. Let yourself be masterfully surprised.

What is a knife block set?
Kitchen knives should always be based on your needs. Nevertheless, experts recommend one certain basic equipment, which has proven itself in practice. Next to one Chef's knifethat is the first choice for universal kitchen work, you should also have space for a bread knife and a paring knife. So you are already well equipped for a lot of preparation work. A knife block with knives gives you exactly this choice all-rounders with what you need, so that you are equipped with all the important knives in one fell swoop and get the right knife block straight away. You can add a cheese knife, a filleting knife or a steak knife to the knife set with knives as you wish.
Knife block sets are available from us in different designs and sizes. Extensive variants of Knife blocks with knives In addition to a chef's knife, a bread knife and a paring knife, we bring a slicing knife, a ham knife, a santoku knife and a paring knife. There is even room for scissors in the knife block set. Small models of knife sets with a block include the classic ones kitchenknife and usually an additional ham knife.
Advantages of knife blocks with knives
A knife block with knives is extremely practical. You have one with every kitchen chore overview about the most important knives and can access them unhindered. A block made of high-quality beech wood, protects the blades the Solingen knife and you can enjoy the sharpness of the cutting tools forged in real craftsmanship for much longer. In addition, creates a knife set in the block more safety in the kitchen, as the sharp blades are firmly enclosed by the block.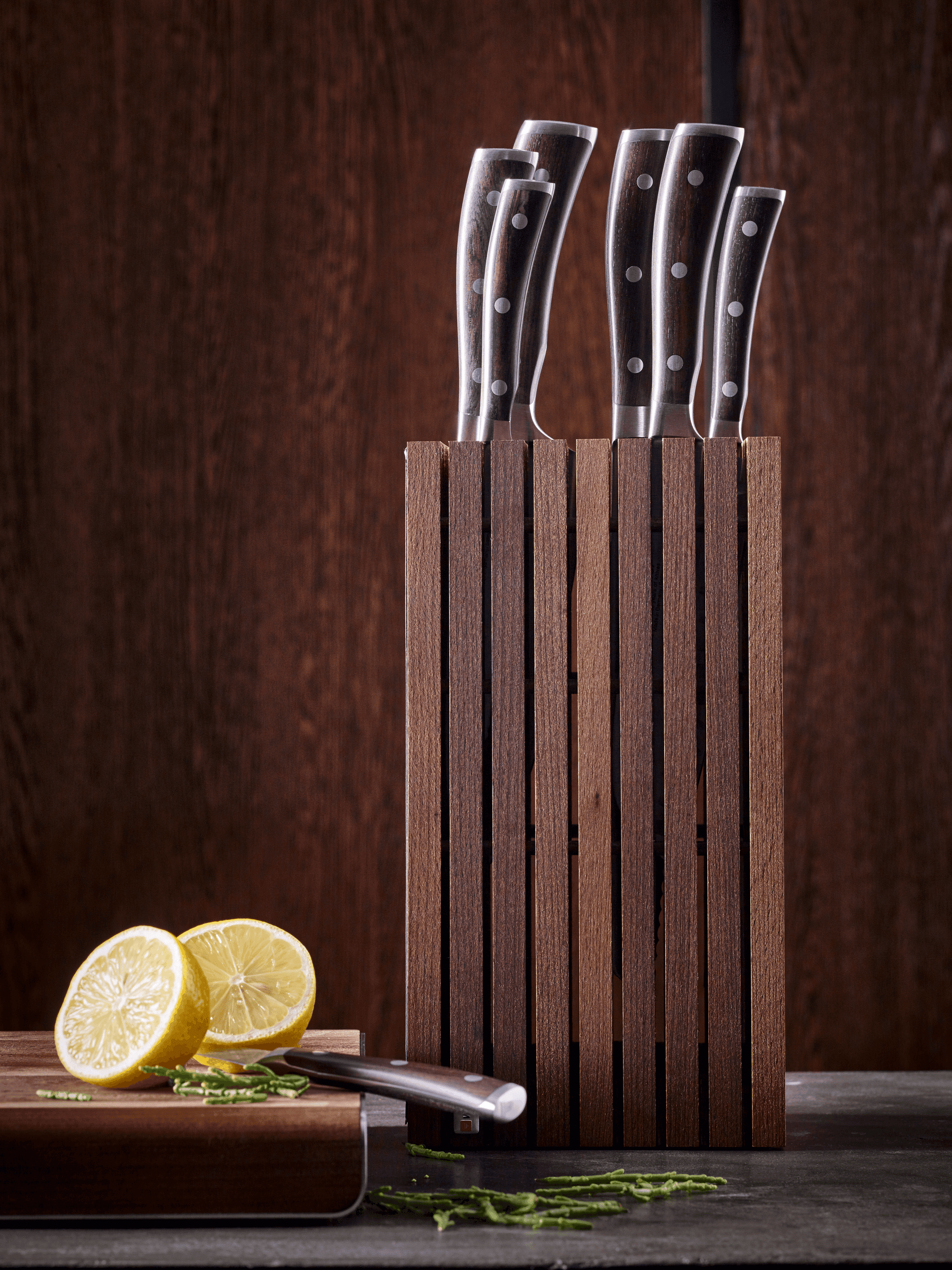 Anyone who likes to cook a lot knows the problem that you often have to different knives required so that the cut is exact and you can effortlessly process the material to be cut. The search for the right knife costs a lot of time and nerves. In the worst case, you might burn something or you just can't find the right knife quickly. With a knife block with knives, you are spared this effort and you master every recipe with flying colors.
In addition to a knife block with knives, you will find a selection of blocks that you can use yourself with a individual composition can be filled by knives. Make sure that the knife block for your personal set has enough space and the right depth for the knives. You can find detailed information in the Product Descriptions. Provide an alternative to knife blocks drawer inserts, such as from Wüsthof or the magnetic knife stand from Güde. Which variant you choose depends on your personal preferences. It is always advisable to consider purchasing one additional knife blocks to think about your knife set in the block if you want to expand your basic equipment. This ensures that other knives find a safe and well-protected place in your kitchen.
When you buy a knife block with knives, you are already making one excellent storage sure, so that you can enjoy the sharpness of your high-quality knives for as long as possible. In addition, you should quality knife Clean regularly with a damp cloth and a little washing-up liquid and then dry well with a cloth. Never insert a knife into a knife block when it is wet. This can lead to damage and mold growth. If necessary, sharpen the blade with a sharpening steel. If this no longer brings the desired sharpness, we recommend that you use our Grinding service to claim something.
High-quality knife block with knives in our online shop
Find yours Knife block with knives and look forward to your all-round equipment with the selected knives from Solingen. Whether knife or knife block, each of the masterpieces is created with real craftsmanship and is truly unique. Just convince yourself. From an order value of 50 € we will ship your purchase in Germany within 2 to 4 working days with our logistics partner DHL free shipping. We also provide you with different means of payment, such as purchase on account. A knife block with knives is also an extraordinary gift idea that is sure to delight anyone who appreciates something special.
If you have any questions or need assistance in choosing your knife block with knives, please do not hesitate to contact us Contact to our service experts. We will advise you personally on request and find the right knife equipment, based on your requirements.