Cheese knife
Cheese knife from Solingen
. Not every knife is equally suitable for every cheese. Whether hard cheese, semi-hard cheese with a more or less firm outer shell and differently soft inner workings through to creamy soft cheese: there is a correspondingly optimized tool for every type. So that you can make the right choice and know which knives you actually need yourself, we offer you a brief overview of the different ones at this point
Cheese knife
in the online shop of Messervertrieb Rottner.
Soft cheese knife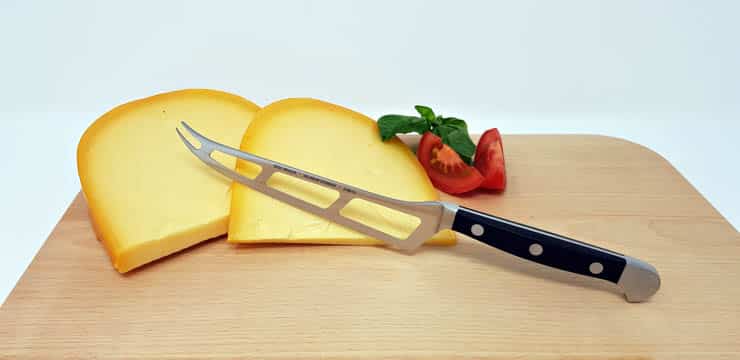 The
Soft cheese knife
is characterized by the fact that it specializes in particularly soft cheeses. The fat-free part of soft cheese consists of around 67% water, which gives it its typical creaminess. The special form of the
Soft cheese knife
with the punched out, very thin and filigree blade enables ideal and smooth gliding through the soft cheese wheel. The punched-out blade prevents the cheese from sticking to the blade. Since the combination of a thin blade and additional recesses naturally comes at the expense of robustness, it is not recommended to use it with harder types of cheese. A different knife should therefore be used for harder cheese wheels. A
Cheese knife from Solingen
is ideal, for example, for cutting camembert, young Gouda cheese or mozzarella. The particularly pointed blade of the knife is well suited for serving the soft cheese slices, as they can simply be skewered with them after cutting.
Hard cheese knife
Knives that are especially suitable for harder cheese usually have a shorter blade than soft cheese knives. For example, if you want to cut parmesan into slices, a classic knife is not suitable. The cheese would crumble unevenly, but this is not always desirable. It can also happen that hard cheese cannot even be cut with a normal kitchen knife because the blade is not robust enough. The special
Hard cheese knife
are therefore equipped with particularly thick and resistant blades that are firmly riveted to the handle shells. As a result, they can withstand even hard cheeses and enable precise cutting.
High quality and proper care
As with our entire range of knives and cutlery, Messervertrieb Rottner naturally vouches for his
Cheese knives from Solingen
for the highest quality. We guarantee this through high-quality materials and robust workmanship as well as our close cooperation with well-known Solingen knife manufacturers. In order to maintain the high quality of your work material as long as possible, our cheese knives also need the right care. On request, we would be happy to advise you personally about the special care needs of the respective knife type, corresponding to the wide range of offers, because your satisfaction is particularly important to us.