Santoku knife - the unique knife from Japan
Whether for professional or hobby chefs, a professional kitchen knife that impresses with its versatility cuts a fine figure in every kitchen. Such an all-rounder is in Japan as a so-called Santoku knife well-known and is used for numerous kitchen tasks. The special thing about high-quality Santoku knives is their unique sharpness and the special shape of the blade, which comes with a straight upper edge. The perfect balance is created by the interplay of blade and handle, which offers enough space for the fingers. If you are looking for a cutting tool that is ideal for chopping different foods, has excellent ergonomics, uncompromising sharpness and a visually sophisticated design, then we recommend a forged Santoku knife from Solingen.
At Messervertrieb Rottner, we appreciate the high level of craftsmanship of the manufacturers from the world-famous knife town of Solingen and carry a selected range of high-quality knives that still impress with their real quality. Every knife that comes with it in master craftsmanship, in many individual production steps and made of high-quality materials, is unique. You buy Santoku knives from us exclusively in a unique quality that meets the highest demands.
Now in the 4th generation, we offer our customers a selection of special knives from the best-known premium manufacturers such as Güde, WÜSTHOF and Gehring, who are known for their excellent knives "Made in Germany' are valued worldwide. This also includes Santoku knives, which we present to you exclusively in our online shop.
Feel free to browse our selection and find a Santoku knife that suits you. With the universal Professional kitchen knives from Solingen you have a reliable all-rounder in your kitchen that will accompany you for many years due to its robust manufacture. Experience for yourself what happens when Japanese knife art meets the passion for traditional craftsmanship meets.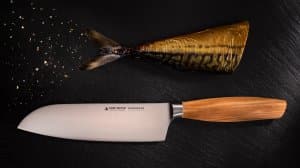 Why should you buy a Santoku knife?
In Japan, Santoku knives are one of the most popular Kitchen knives and irreplaceable in almost every household. The name Santoku means "three virtues" and already gives an idea of the areas in which the Santoku knife proves its ability: It is ideal for cutting meat, fish and vegetables. The excellent all-rounders have a long tradition here and are characterized by versatile qualities.
With the special shape, the wide blade and the handle run in one line. Since the blade clearly protrudes below the handle, which is mostly made of wood, the light Santoku knife lies perfectly in the hand and can be easily and precise to lead. Despite the immense sharpness, even beginners and amateur cooks can use a Santoku knife thanks to the clever design.
Especially Santoku knives Damascus steel are real eye-catchers and bring with them extraordinary sharpness and stability. The unmistakable blade design of Damascus knives gives Santoku knives a particularly elegant touch.
Buy Santoku knives from us Knife sales Rottner for example with one Fluted bevel. This effectively prevents the material to be cut from sticking to the steel. A good choice if you frequently cut fruit or make sushi. The cuts made with a santoku knife with a scalloped edge separate the sushi rolls cleanly and precisely, and the starchy rice stays exactly where it belongs. Wafer-thin slices of fish or meat are just as effortless with a Santoku knife. With the purchase of a Santoku knife you meet all the requirements for demanding kitchen work. We promise that once you've enjoyed it, you'll never want to be without a Santoku knife in your household again.
Our tip: It is best to clean a high-quality Santoku knife with a soft one sponge and some dish soap. Cleaning in the dishwasher is not recommended. Salt and metals from other tableware attack the blade of a Santoku knife and can damage it. If you have cleaned your Santoku knife by hand, carefully rub it dry with a soft cloth to avoid rust film. This will keep you sharp for a long time. Should the blade ever become blunt over the years, we are with ours Grinding service there for her.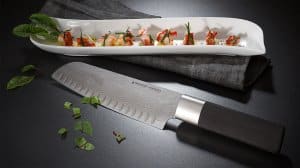 For the impressive sharpness of Santoku knives
Every quality knife loses its sharpness over the years. On the one hand, this is due to the fact that the blades are forged very thin and, on the other hand, to a deformation caused by incorrect guidance. Different environmental factors also affect the cutting edge of a Santoku knife and reduce its sharpness. It is therefore important to sharpen the Santoku knife from time to time. At Messervertrieb Rottner you will find a large selection of knife sharpeners, which you use at home to sharpen your Santoku knife. Honing the blade with Sharpening steel we recommend once a week. So you get the basic sharpness for a long time. If processing with a sharpening steel no longer leads to the desired result, please do not hesitate to contact us.
Of course you can also expect our sharpening service and the regrinding of Santoku knives highest quality. We work together with a grinding shop from Solingen, which grinds your Santoku knife with the original Solingen thin grind. After buying the Santoku knife, you are welcome to use our sharpening service. With some knives you will find a sharpening voucher in the scope of delivery.
Buy Santoku knives from Messervertrieb Rottner
Let yourself be enchanted by a Santoku knife and enjoy the fine art of cutting technology at a new level. Spoil your guests and family with culinary delights from international cuisines. Cutting different foods is no longer a problem in everyday life or with extensive recipes. Thanks to the excellently worked out shape, it is comfortable to use even over many hours. You can hardly describe a Santoku knife, you have to experience.
With an order value of €50 or more, your Santoku knife will make itself felt free shipping on the way to you. We organize reliable delivery with our reliable shipping partner DHL in 2 to 4 working days. You can expect different, certified payment methods from us, such as convenient purchase on account.
Do you have any questions about our Santoku knives? Our service team will be happy to take care of your request. On request, we will advise you personally on your selection. You're welcome Contact up to us.