Santoku knife: Strong kitchen gadgets with a sharp blade
Santoku knives have a long tradition and are particularly common in Japan. The all-purpose chef's knives from Solingen are characterized by a wide and rounded blade. The name Santoku means "three virtues" and aims at the function of the Solingen knife: you can cut meat, fish and vegetables with it. The upper edge of the knife is kept blunt and it weighs less than a normal meat knife, so that you can work comfortably with it over a longer period of time. Santoku knives made of Damascus steel are particularly eye-catching, as they give the cutting tools exceptional sharpness and stability. This also makes it easy to cut solid pieces of meat. In addition, damask knives have a chic blade design, which also makes them a classy kitchen tool.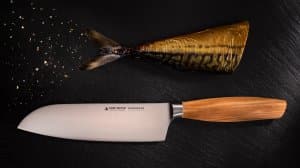 Buy a Santoku knife for a special cooking experience
Some Santoku knife have a scalloped edge in the blade, which prevents the material to be cut from sticking to the steel. This makes the knives particularly suitable for sticky dishes such as sushi made from starchy rice or various types of fruit. Thanks to the special hollow cut, extra thin slices of fish or meat can be cut. It is best to clean the high-quality chef's knives by hand with a sponge and a little washing-up liquid. This way, the sharpness of Japanese knives is retained for a long time. These models should not be cleaned in the dishwasher, as salt and metals from other dishes can attack and damage the blade. After cleaning, the knives should be rubbed dry with a cloth to avoid rust.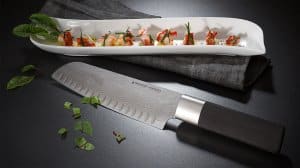 The ideal chef's knife for Far Eastern specialties
For the preparation of many Asian dishes you can use a Santoku knife and spoil its guests with culinary delicacies from the Far East. The sharp blade is not only suitable for Japanese cuisine, it can also be used for Thai, Chinese and European dishes Santoku knife ideal. The blade can be easily re-sharpened, making it a loyal companion in everyday kitchen life. The handles can be made of wood or high-quality plastic and are very comfortable to hold.