Hunting knife with fixed blade from Solingen
Hunters and falconers must be able to rely on their tools when working in their area. Even nowadays, this still includes a decent knife, which enables the hunted wild animal to be taken care of directly on site. In order to simplify the work of a hunter, the online shop of Messervertrieb Rottner offers a large selection of different
fixed hunting knives
to buy, which are perfect for cutting up or skinning deer, wild boar or rabbits, for example.
From Puma Bowie to Hubertus Jagdnicker
Fixed hunting knives from Solingen
come in numerous forms and variants. The Solingen companies like
Puma Solingen
,
Hubertus Solingen
or
Hartkopf Solingen
offer you various
Hunting knife
with different blade shapes, all of which are of high quality and have sturdy handles. This is due to the ergonomically shaped handle scales
Hunting knife
always well in the hand and becomes a safe companion when hunting.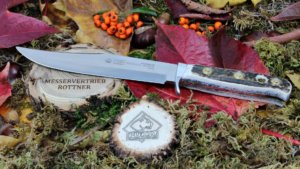 In the online shop of Messervertrieb Rottner you will find all forms of
Hunting knife
to buy. For example, if you need a reliable all-purpose knife, a Bowie knife with a clippoint blade is ideal. This is single-edged and the tip of the unpolished side is concave. The blade tip is slightly sharpened and enables the knife to be guided easily and safely. Anyone who needs a special knife for killing wild animals directly is well advised to contact a Nicker from Solingen. In the online shop, however, you will also find a large selection of skinners that make it easier to skin animals thanks to the extremely sharp blade.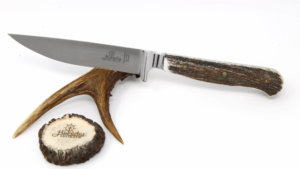 Well equipped in every situation with a hunting knife from Solingen
As a hunter, you need a knife that won't let you down. With a
Knife from Solingen
you are up to any situation. Each of the knives that you can find in the online shop of Messervertrieb Rottner is handcrafted in high quality. Stainless steel and sturdy handle scales made of staghorn enable the special durability of the
Hunting knife
. Thanks to the excellent workmanship, the blade remains sharp for a long time and can be easily re-sharpened if necessary. The
Hunting knife from Solingen
are supplied with a sheath made of sturdy saddle leather, which you can easily attach to your equipment so that the knife is always at hand.
Our hunting knife recommendations for you: