Hunting knife with a fixed blade - safe in the hunting ground
A hunting knife with a fixed blade is the first choice for many hunters in the area. Above all, the high stability and the long blade show their advantages when hunting compared to a pocket knife. Fixed hunting knives ensure that you immediately and safely intercept and take care of the game you have killed on the spot. When you are out and about as a hunter, you need to be able to rely on your equipment at all times. Therefore, do not make any compromises when choosing your hunting knife with a fixed blade, but opt for the best models from the handicraft manufacturers in Solingen. At Messervertrieb Rottner, we carry a comprehensive range of different fixed hunting knives of the highest quality from well-known manufacturers from the world-famous and valued city of knives. Each of the fixed hunting knives has excellent properties that are the ideal companions in the hunting ground and make it immensely easier for you to butcher or skin deer, wild boar or rabbits.
Convince yourself of our large selection of hunting knives with fixed blades from PUMA in full tang construction, made of stainless Sandvik steel, as real all-rounders. Or opt for a fixed Hubertus hunting knife with a 6 cm axe on the back of the blade, made from a single piece of high-performance Thyssen-Krupp steel. With the integrated thumb recess in the handle, the hunting knife with a fixed blade is particularly easy to use. Deer horn scales are particularly popular, as they feel particularly comfortable in the hand and are a real eye-catcher. Our range of high-quality hunting knives from Solingen with a fixed blade is rounded off with models from Eickhorn, Rotwild and Linder. With us, you can rely on a range of high-quality hunting knives with a fixed blade that will more than convince you in practice.
Already in the 4th generation, we at Messervertrieb Rottner are the partner for hunters and outdoor professionals when it comes to high-quality, fixed hunting knives that impress in terms of the choice of materials and workmanship. With every hunting knife with a fixed blade you will experience the high level of craftsmanship of the Solingen quality work, which is still genuine today. In the elaborate manufacture of the hunting knives, traditional manufacturing methods flow together with the latest technological processes, thus ensuring the high quality that you can always rely on. Feel free to browse through our online shop with selected and multifaceted hunting knives with fixed blades and find your favorite 100 % "Made in Solingen", which will be your reliable companion from now on.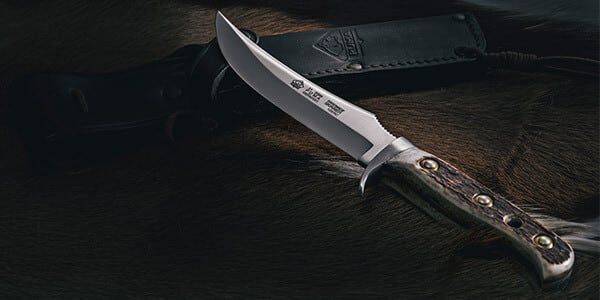 Find your fixed hunting knife
Fixed hunting knives from Solingen are made in different shapes and variants, so that everyone can find the best variant for them. Especially when it comes to blade shape, hunting knives with a fixed blade open up a spectrum of different solutions. What you can rely on with all free-standing hunting knives are the robust and ergonomically shaped handle scales made of materials such as staghorn, micarta or wood.
The hunting knives with a fixed blade are therefore particularly comfortable to hold and ensure precise and exact guidance. Are you looking for a reliable all-purpose knife? In particular, we recommend the fixed blade hunting knife that Puma Bowie Knife. Bowie knives with a single-edged clip point blade are characterized by a concave tip on the unground side. In addition, the tip of the blade is slightly sharpened. The fixed hunting knife is particularly easy and safe to use.
On the other hand, if you are looking for a fixed hunting knife for shooting wild animals directly, we recommend a good hunting knife from Solingen, e.g. B. the knives from Puma. The Jagdnicker after Oberforstmeister Frevert is one of the best-known hunting knives with a fixed blade made of high-performance stainless steel, finished with stag scales and brass fittings. The stable leather sheath is already included with the hunting knife with a fixed blade, so you can use your model immediately. Of course you will also find a large selection of our hunting knives with fixed blades Puma Skinners, which make the skinning of animals much more efficient and easier thanks to their extremely sharp blade. You can be sure of precision, performance and function with a fixed hunting knife from Solingen.
Tip: A real specialty is the PUMA IP Uhu, where the handle is made of fluorescent acrylic. The material charges itself through daylight or artificial light and releases it again in the evening when it is completely dark.
You can always rely on a hunting knife with a fixed blade from Solingen and you are guaranteed to be able to cope with any situation. Stainless steel and stable stag handle shells ensure the longevity of the freestanding hunting knife. Thanks to the excellent workmanship, the blade stays sharp for a long time and can be easily resharpened if necessary. The hunting knives from Solingen come with a sheath made of sturdy saddle leather, which you can easily attach to your equipment so that the knife is always ready to hand.
For durable fixed hunting knives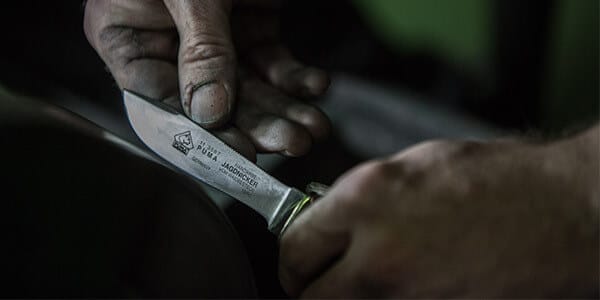 Hunting knives with a fixed blade are sometimes exposed to the highest loads on a daily basis. Even such high quality fairs from Solingen lose their sharpness after a certain time, which is why you should definitely go to the Sharpening steel should grab. If the blade of the fixed hunting knife has been dull for a long period of time, the only solution is to have it resharpened by a professional. In this case, too, we are your first point of contact. We organize the professional re-sharpening of hunting knives with fixed blades in cooperation with a Solingen grinder. This means that you get a uniquely sharp hunting knife with a fixed blade that, as usual, has high cut resistance and cutting properties. We have enclosed a voucher for our sharpening service with many fixed-blade hunting knives.
Order your fixed-blade hunting knife now from Messervertrieb Rottner
If you have found your hunting knife with a fixed blade in our online shop, your package will be on its way to you free of charge within Germany with our reliable shipping partner DHL for orders of €50 or more. The fast delivery time is between 2 and 4 working days. When buying the fixed hunting knives, you can choose between different and certified payment methods.
Trust in the quality that we take for granted when it comes to fixed hunting knives. We therefore give you a price guarantee. If you find the same hunting knife with a fixed blade in another shop based in Germany, including shipping costs, at a lower price and you can prove this to us, you will receive a reduction of 3 % per knife.
Would you like advice on hunting knives with a fixed blade or do you have any other questions? Our competent service experts from Messervertrieb Rottner will be happy to take care of your concerns. Take now without obligation Contact up to us.