High-quality nail and cuticle scissors from the Solingen company Niegeloh
Professional quality for over 80 years
Has been manufacturing since 1936 Niegeloh high quality nail and cuticle scissors. All instruments for manicure and pedicure are made in-house from the first to the last step, the final inspection by hand Niegeloh made in Solingen. In addition to the popular nail and cuticle scissors, the range of care products also includes nail nippers, nail files, nail clippers, tweezers and foot care instruments. Alloyed, hardenable steels are used as material.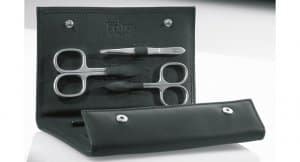 The blade city of Solingen
Solingen is known worldwide as the "City of Blades". This is due to the wide range of high-quality cutlery that are manufactured in Solingen. "Made in Solingen" is synonymous with the highest quality and the best workmanship. The small town has many small rivers and streams that were of great importance for the settlement of grinding shops. So it happened that the city was already known for the manufacture of swords in the Middle Ages. Nowadays cooking and hunting knives are mainly produced. But also other cutlery, such as cuticle and nail scissors from
Niegeloh 
are in no way inferior and convince with their genuine Solingen quality.