Hartkopf pocket knives - best quality since 1890
Are you looking for something special? Looking for something exquisite that also meets your requirements for functional properties? Choose a Hartkopf pocket knife. A piece of tradition lives on in every Hartkopf pocket knife - and has been since 1890, when pen knife manufacturer Friedrich Hartkopf opened his own factory for steel goods in the Höhscheid district of Solingen and specialized early on in the world-famous Hartkopf pocket knives. To this day, the Hartkopf company is a family business that manufactures Hartkopf pocket knives from Solingen by hand. A manufacturer that masters the balancing act between tradition and progress and has remained true to the precise craftsmanship to this day, which ensures the uniqueness of each Hartkopf pocket knife.
From the close connection to his own history, Friedrich Hartkopf draws the strength and inspiration for knife models that are visually impressive and functionally convincing. Many of the current Hartkopf pocket knives were already around in the early years of the company. These have been impressively refined over the decades. Today, Hartkopf pocket knives combine the best of the past with today's technologies for the tasks and requirements of the present.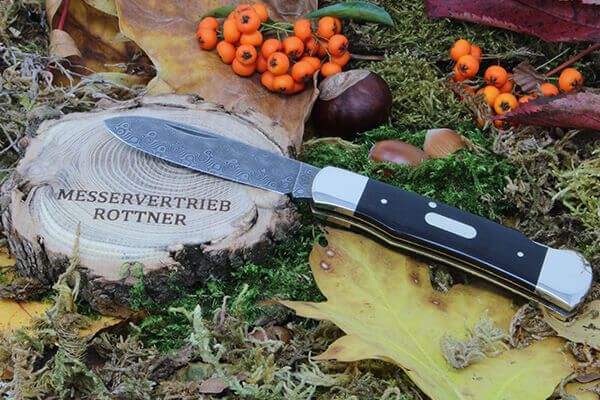 Hartkopf pocket knife from Solingen at Messervertrieb Rottner
Also we from Knife sales Rottner have remained true to our passion and tradition in the fourth generation. Here you will find an exquisite range of unique knives and cutlery, which we source exclusively from traditional manufacturers in Solingen. To this day, the exquisite quality, the remarkable functionality and the unique designs of the traditional companies from the knife city are valued worldwide. This also applies to Hartkopf pocket knives, which include more than 210 different versions. More than 60 work steps are necessary for the production of the precise, unique knives. Of course, only the highest quality materials are used, such as stainless steel 1.4110, selected Damascus steel or 145-layer rose Damascus. With a Hartkopf pocket knife you always make an excellent choice.
Discover our selected range of Hartkopf pocket knives and order your favorites directly online. We would also be happy to advise you personally at any time.
The history of Hartkopf pocket knives
The steel goods factory FRIEDRICH HARTKOPF was founded in 1890 by the pen knife manufacturer Friedrich Wilhelm Hartkopf and took on the production of pocket knives and pen knives. The Hartkopf pocket knives aroused interest in international markets as early as the 19th century thanks to their first-class workmanship. The models of the Hartkopf pocket knives of the time were shipped overseas from Solingen. Due to the early export, Hartkopf pocket knives from Solingen are still valued all over the world and the company makes a significant contribution to the fact that the city of Solingen enjoys a worldwide reputation as the origin of high-quality knives. The quality thinking of that time still sets the direction of the Solingen manufactory. The classic Hartkopf pocket knives as well as picnic and traditional knives are still forged using proven technology as they were 100 years ago.
Then as now, Hartkopf pocket knives are extremely popular because of their high quality. Not only outdoor fans, where the Hartkopf pocket knives prove their skills in daily use, but also collectors swear by the selected materials that Hartkopf uses for its knife production. Many models of Hartkopf pocket knives from the early days enrich the range to this day.
This is what you can expect from Hartkopf pocket knives
The blades of Hartkopf pocket knives are made from 1.4034, 1.4110 and 1.4116 stainless steel, damascus steel, wild damascus or rose damascus. The bolsters are made of solid nickel silver, which gives Hartkopf pocket knives from Solingen a high-quality weight. The alder is made of brass. Hartkopf uses ebony, redwood, coconut wood, olive wood and snake wood for the scales. Well over 60 work steps are necessary before a Hartkopf pocket knife is finished, which are carried out with great care every day by the best cutlers in the Solingen manufactory.
The result is pocket knives, cutlery pocket knives and hunting knives that are second to none.
Our selection of Hartkopf pocket knives
Discover our selected range of Hartkopf pocket knives.
The Hartkopf cutlery pocket knife convinces with a divisible handle, a foldable knife blade and a fork blade. Both halves of the handle are opened when the handle is unlocked, making it possible to use the elements separately. The manufacturer uses deer horn for the handle. The practical cutlery pocket knife from Hartkopf is supplemented by a fork blade with a bottle opener and a corkscrew.
Of course you will also find the traditional Hartkopf pocket knife, which Hartkopf forged in the same way from the start. Here, too, deer horn as a handle flatters the hand of the happy owner.
Alternatively, you can opt for the handcrafted Jagdnicker from Hartkopf, which is ideal for breaking open for large and small game. The blade comes with around 11 cm of stainless molybdenum steel 4116. An elegant, brown sheath is included with these Hartkopf pocket knives.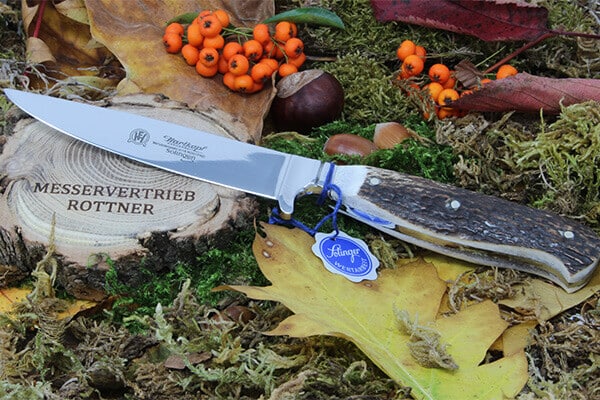 A special recommendation and a real masterpiece is the Hartkopf pocket knife with a blade made of 300-layer Damascus steel. When open, the back latch ensures a secure lock. The handle scales are made of the finest ebony and the bolsters, as usual from Hartkopf, are made of polished nickel silver.
You can order these and many other Hartkopf pocket knives in our online shop. We also have various accessories available for you, such as knife sharpeners for knife care. Feel free to take a look around with us.
Quality from tradition: Buy Hartkopf pocket knives from Messervertrieb Rottner
Hardly any other manufacturer reflects on its tradition to such a high degree and thus manages to produce products that meet today's zeitgeist. You can buy Hartkopf pocket knives from us free of charge within Germany from a purchase value of 50 €. With our shipping partner DHL, we ensure speedy delivery within 2 to 4 working days. Use our different payment methods, such as secure purchase on account.
If you have any questions about Hartkopf pocket knives, we are always there for you personally. Just take this Contact up to us. We are happy to take the time to advise you.