Hunting knives from Solingen - craftsmanship that overwhelms
People who have made hunting or falconry their profession are now mainly responsible for regulating the number of animals in their hunting grounds and intervening in the event of illness or pest infestation. Hunters need high quality for this knifewith which they can carry out their work efficiently and conscientiously. The right thing Solingen hunting pocket knife or Woad cutlery is therefore essential.
The right hunting knife
For a hunter's day-to-day work, basically everything is stable Hunting knife from Solingen suitable, but there are certain circumstances that require a special knife. The special shape of the hunting knife has therefore established itself over time and established as an integral part of hunting equipment. When buying a new hunting knife, you should therefore pay attention to the nature of the blade and the processing with the handle. A Hunting knife from Solingen proves to be perfect for the processing and evisceration of animals because they are very stable and durable. The knives from the Solingen manufactories, like for example Hubertus hunting knife and Puma hunting knife, are particularly suitable for the work of a hunter due to the high-quality handles and the rustproof, robust steel. These knives are available in different versions to cover the entire work spectrum of a hunter. The handles are always made of robust materials, such as deer horn, and are firmly riveted to the blade. This gives you a high-quality knife that can be used in any hunting situation and is ideal in the hand. In the assortment of the online shop of Messervertrieb Rottner you will find numerous products from Solingen knife manufacturers that are ideally suited for hunting. You can choose between  Hunting knife, Hunting pocket knife and high quality Woad cutlery from Solingen choose.
Hunting pocket knife or hunting knife?
Whether you choose a folding or a fixed hunting knife depends mainly on what you need the knife for. A hunting knife with a fixed blade is the high-tech advancement of the hand ax and is therefore still one of the most important human tools. A Solingen hunting pocket knife as a further development of the common hunting knife offers you a higher degree of flexibility.
Closing knives vs. fixed knives
Lock knives for hunting are usually more manageable than fixed hunting knives and are therefore often preferred. In contrast to a normal pocket knife, the blade of a hunting pocket knife can be locked when open, so that the same safe handling is given as with a fixed blade. The lock can easily be released again without the blade jumping. At the same time gives a Hunting pocket knife from Solingen the possibility of always having additional tools with you when hunting. With a handle made of staghorn and a rustproof and robust blade, a Pocket knife for hunting For example, you can also combine a bottle opener, corkscrew or a saw. As a result, such a knife also proves to be ideal Outdoor knife for outdoor enthusiasts and campers.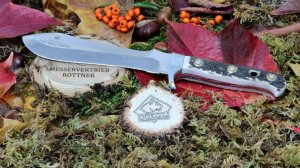 What are hunting knives from Solingen suitable for?
Regardless of whether you are looking for a fixed hunting knife, a Hunting pocket knife or a Woad cutlery decide. The knives from the Knife shop from Messervertrieb Rottner are suitable for breaking open and skinning hunted animals. You can also use one of these knives to do the work of intercepting, nodding and cutting up animals in your hunting area. The hunting knives of the Solingen knife manufacturers are also ideal for collecting, as they immediately catch the eye of knife lovers with their high-quality design.
Legal requirements
For certain knife shapes you need a hunting license, for example a Puma Bowie or a Puma White Hunter has a blade length of 13 to 18 centimeters. Without a legitimate interest, which is legitimized by the profession of hunter, you are only allowed to use a fixed knife with a blade length of up to 12 centimeters. Different requirements therefore apply to hunters and gatherers. Feel free to inquire about the current one weapon law.
A brief introduction to the Solingen manufactory
In addition to Puma, there are many other Solingen manufacturers, all of which enjoy their special advantages.
Advice and questions
About the different Knife shapesWe would also be happy to inform you personally about your function and the legal requirements. Do you have any questions about our products? Feel free to contact us by phone or email. Do you already have a high quality hunting knife, but it has become dull over time? Then find out more about our Grinding service.