Breakfast knife from Solingen
Enjoy breakfast properly
The range of kitchen knives is mainly used for preparing meals. It can be optimally supplemented with a dining knife. Mainly fall into this category
Table knife
and
Breakfast knife.
These are ideal, for example, for lubricating bread. Due to their respective knife shape, you can use these knives not only for a balanced breakfast. The breakfast knife can also be used at any other meal. A
Table knife from Solingen
is also perfect for cutting up roasted meat or freshly baked cakes.
Table knives for every occasion
With a high quality
Breakfast knife from Solingen
you get a knife that will not let you down at the table in any situation. It has a rounded tip and a serrated edge. The
Hump knife
of the
Otter company
are not just forged in one piece and come with a wooden or plastic handle. Due to the chrome-molybdenum alloy, the knives prove to be extremely rust-resistant. Although these knives are suitable for the dishwasher, rust stains can still occur if you wash them frequently. With good care, you will have one
Table knife
Preserved for a long time and can be used for any meal.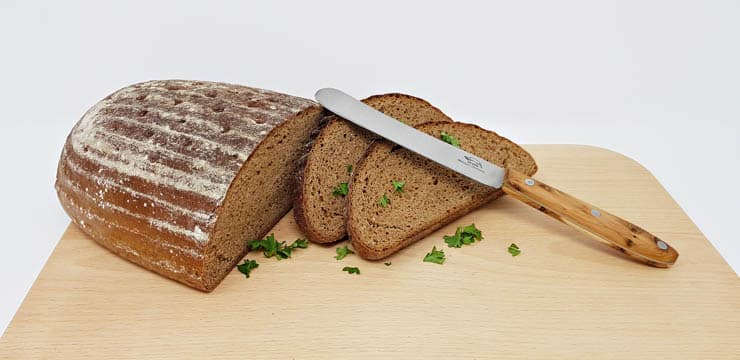 The all-rounder - not just for breakfast
Even if the name suggests, it is
Breakfast knife
not only ideal for breakfast alone. The shape of the so-called humped blade is characterized by its extraordinary sharpness and the slightly curved, rounded tip. And the sharp blade is ideal for cutting cheese or sausage slices as well as bread. While you can spread jam or butter perfectly thanks to the round blade tip. When preparing the classic sandwich or to smear the breakfast roll, it turns out to be
Solingen breakfast knife
as extremely robust and handy at the same time. The blades are cut-resistant for a long time and can be easily re-sharpened.
The perfect selection
The different
Breakfast knife
, which you can purchase in the online shop of Messervertrieb Rottner, should always be cleaned by hand as they have a noble wooden handle. So that you can keep the knife for a long time, you will find our
Care instructions
important tips for caring for steel and wood. Our support team will be happy to answer any questions you may have about the knives and their care by phone or email.